The NEW ICC 8" Residential Combo Enclosure Will Make You Money!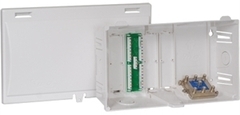 Everyone is excited about the new 8" residential combo enclosures from ICC. For years home builders and professional installers have been using the ICC line of residential enclosures to make their installations successful and profitable. ICC is taking their residential enclosure line to a whole new level! The ICRDSMMBK8 enclosure comes in a 6 pack. Perfect for multi-tenant buildings or smaller living spaces! Once installed the enclosure is designed to be the central distribution point for a home's voice, data, and video distribution system. It comes with an 8 port voice and 6 location video splitter already installed, so you are ready for a plug and play installation! 
The ICC's 8" enclosure offers the best value in the industry. It is ideal for apartments, condos and small townhomes with 2 to 3 bedrooms. With smaller margins and less time to finish a job this ICC enclosure is a real money maker and game changer in the business!
Each box contains six enclosures, covers, and voice/video modules. Offering the combo in six packs offers convenience and lowers the unit cost of each enclosure compared to buying them individually. The enclosure is made of UL-rated ABS plastic, and the base is designed to be installed between wall studs or wall mounted. The base has knockouts allowing cables to enter and exit from the top, bottom and sides. The cover snaps on with a tab for padlock to prevent unwanted access.
The included voice module has a 110 IDC bridged design with 8-ports, allowing phones to be installed in eight locations. The included 2 GHz CATV module has one input and six outputs allowing video to be connected to six locations.
If you need an enclosure for a larger application ICC has them! They have a 14 inch ICRESDC14E , 21 inch ICRESDC21E, and 28 inch ICRESDC28E enclosure with all the modules you need to support even the largest residential installation. If you need assistance in designing and picking the right products for your installation, call us now @ 1-855-818-5556. We have cabling professionals on staff ready to assist you!