Use the NEW Digital Watchdog IP Hardware Configurator To Make Your Projects Successful!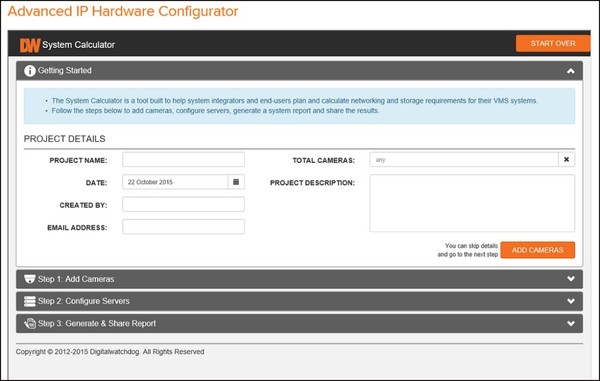 The NEW Digital Watchdog IP Hardware Configurator is an awesome new tool that allows you to calculate needs and configure a custom IP solution. The tool allows you to calculate the needs of your system and choose the right products for the job. Since every application and need is unique, the Digital Watchdog IP Hardware Configurator is the best tool to ensure your system is a complete success!
The Advanced Hardware Configurator helps you calculate bandwidth and storage for your system. So you know exactly how your system will perform! The configurator will also give you a report that you can export and use to determine the products and type of IP solution that is best for you.
Click Here For The Entire Line Of Digital Watchdog IP Cameras
The Configurator also includes universal camera management, which will give you bandwidth and recording recommendations for the major camera brands on in the industry. The server section of the Configurator allows users to select one of Digital Watchdog's Blackjack™ network video recorders with their preset hardware and storage options, or to build a custom server, selecting the processor, internal storage or RAID options. Users can assign specific cameras to specific servers, personalizing the report to match the project to the smallest detail. Users can also export the report as a PDF for reference, or contact our expert sales team for more information to bring the system to life.
The NEW Digital Watchdog IP Hardware Configurator is just another way Digital Watchdog helps its customers be more successful. Too often the wrong hardware and/or wrong products are ordered and the end result is a unhappy customer. Many professional installers often just guess when it comes to storage and sometimes they guess real wrong. The DW Hardware Configurator takes the guessing game out of play and ensures you have the exact information. It will configure exactly the storage when accounting for the frame rate, and with the camera types you are using. At the end of the day this tool will ensure you installation is successful and you have a happy customer.
ABOUT DIGITAL WATCHDOG
Digital Watchdog® (DW™) empowers our customers as the industry-leading single source of value-driven complete solutions for all video surveillance applications (analog / hybrid / IP enterprise), focusing on ease of use and ROI. DW™ products offer technologically-advanced features including Star-Light™ super low light technology, WDR, Smart DNR™ and Smart IR™. Complete IP megapixel surveillance solutions include single- and multi-sensor MEGApix® cameras and edge recording systems, VMAX IP™ NVRs for SMB, Blackjack™ Enterprise NVRs and DW Spectrum™ IPVMS for server, mobile and on-camera control. Complete analog surveillance solutions include single- and multi-sensor STAR-LIGHT AHD™ 1080p and STAR-LIGHT MPA™ 1.3MP 960H cameras, VMAX™ DVRs and mobile management applications.