Soldered Joint vs. Terminated IDC in 25 Pair Telco Cables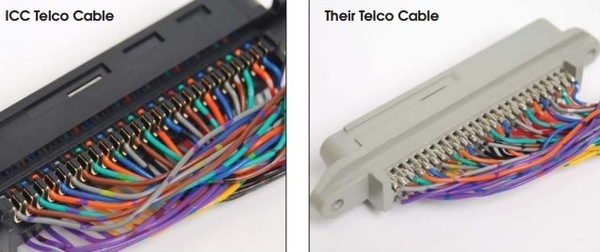 There is no doubt IDC (Insulation Displacing Connectors) termination is the best way to terminate cable conductors for network applications. This is common in 66 blocks and 110 cabling systems. ICC insists on IDC termination for connecting Telco connectors to a 25-pair Telco cable because the connections have excellent performance and high reliability. You will also find IDC terminals on the back of all ICC Cat6 Patch Panel and Cat5e Patch Panels. The great thing about the IDC terminals is that they have spring properties that hold the wires in a stable mechanical condition. This means a better performing, stronger, and longer lasting 25 Pair Telco Cable. Manual soldering can be inconsistent and subject to failure as a result of mechanical or temperature stresses. A cold-soldered joint is caused by improper heating of solder may not conduct at all or only intermittently. An overheated solder will burn the flux, destroy its effectiveness and the solder will not enter the joint properly. A dry joint is caused by movement during the soldering process which can develop cracks in the jointed area leading to intermittent conductivity. Many solders still contain lead which is hazardous to the environment. 
The bottom line is that ICC Telco Cables perform better and cost 20% less. ICC now offers 25 Pair Telco Cables in 5, 10, 15, 25, 50, 75, and 100ft lengths.  And the ICC patch panels are designed for performance! 
About ICC
ICC is a leading manufacturer of commercial and residential structured cabling products. With 30 years of innovations and strict ISO 9001:2008 manufacturing standards, ICC products have established a reputation for premium quality, proven performance and competitive prices. Cabling Plus Is proud to be a true partner, and national stocking distributor for the entire ICC Cabling Products Line.