Platinum Tools Introduces New Cat6, Cat5e, and Cat6A Patch Panels!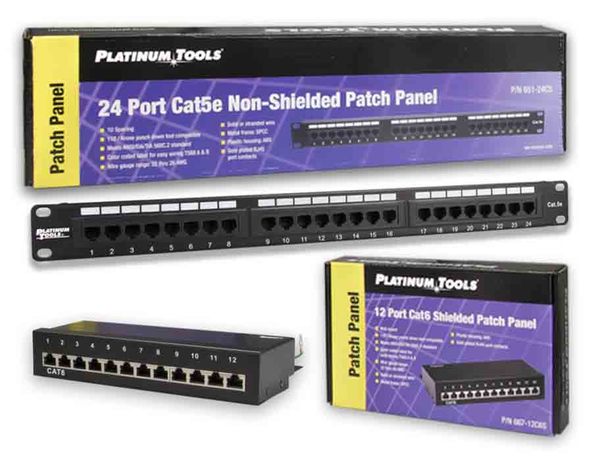 Platinum Tools is proud to announce it will launch a complete line of Cat5e, Cat6, and Cat6A patch panels. The new Platinum Tools Patch Panels are built for durability and flexibility in an installation. They are manufactured using the highest quality materials to ensure a long lasting, high performance network installation. 
"Our new Patch Panels have been designed to increase network flexibility," said John Phillips, Platinum Tools, Inc. product manager. "These are efficient and convenient solutions to terminate all the cable runs coming in from various rooms to one main location, such as a server room or wiring closet. Patch panels are key components to connecting and routing circuits in any network."
The Platinum Tools patch panel family includes:
675-24C6AS: 24-Port Cat6A Shielded Patch Panel
Additional specifications include:
110 / Krone punch down tool compatible
Meets ANSI/EIA/TIA 568C.2 standard
Color coded label for easy wiring (T568 A & B)
Wire gauge range: 22 thru 26 AWG
Solid or stranded wire
Plastic housing: ABS
Gold plated RJ45 port contacts
Metal frame: SPCC
About Platinum Tools: 
Platinum Tools, founded in 1997, was created based upon two very simple objectives. First, develop the absolute best possible solutions for the preparation, installation, and hand termination of wire and cable. Second, implement an operational infrastructure that can deliver these products in an efficient, timely, and high quality manner.All of our products must absolutely satisfy three critical benchmark criteria…utility of function; quality of function; and economic value. Our people are our company. They, too, must be focused on and work to satisfy three critical benchmark criteria…customer satisfaction; product knowledge and expertise; and willingness to learn and adapt.