Does the New ICC FEEDTHRU Patch Panels Make Sense For You?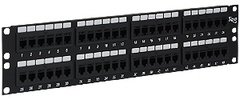 Have you seen the NEW ICC FEEDTHRU Patch Panels? ICC now offers a full line of FEEDTHRU Panels in both Cat6 FEEDTHRU Patch Panel form and Cat5e FEEDTHRU Patch Panel form. The FEEDTHRU means there is no more punching down on the back. You essentially just plug in your pre-terminated cables with an RJ45 connector directly into the open ports. This mean no more punching down the cable, your installations are quicker, and future moves, adds, and changes are fast and plug and play. It is basically the same as a traditional patch panel but instead of IDC punch down terminations on the back you have your basic RJ45 female ports to plug directly into. 
You might be asking yourself how does this save time and money? Although you still have to put RJ45 connectors onto your cable runs to plug them into the back of the panel, you don't have to worry about any punch down terminations down the road. You can easily unplug a location and move it to another location with ease. Traditionally you would have to call in a local contractor to move a location or make a change to your network. This was because in the past moving a location or seat meant you had to have some technician skills to prepare and punch down cable pairs. With the FEEDTHRU system there is nothing but plugging and un-plugging locations. So using the FEEDTHRU system will really make managing your network easier in the future! 
The NEW ICC FEEDTHRU Patch Panels come with both 24 and 48 ports. So you can use them to support the smallest and largest network systems. Both the 24 port and 48 port versions are offered in both cat5e and cat6 form, and are designed to fit standard 19" racks, wall mount brackets, stand-alone racks, and server cabinets.
Cat5E FEEDTHRU Patch Panel Order Information:
ICMPP24CP5 - ICC 24 Port Cat 5 FEEDTHRU Patch Panel, 1RMS
ICMPP48C51 - ICC 48 Port Cat5e FEEDTHRU Patch Panel, 1RMS
ICMPP48CP5 - ICC 48 Port Cat5e FEEDTHRU Patch Panel, 2RMS
Cat6 FEEDTHRU Patch Panel Order Information:
ICMPP24CP6 - ICC 24 Port Cat 6 FEEDTHRU Patch Panel, 1RMS
ICMPP48C61 - ICC 48 Port Cat 6 FEEDTHRU Patch Panel, 1RMS
ICMPP48CP6 - ICC 48 Port Cat 6 FEEDTHRU Patch Panel, 2RMS