ICRESDC14E - ICC 14" Net Media Center with Hinged Door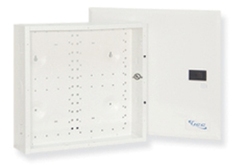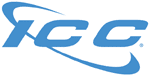 Related Categories
The ICC ICRESDC14E 14" Net Media Center with Hinged Door is designed to be the central distribution point for network services in the home or small business. As the smallest residential enclosure in the ICC family of Net Media Centers, the ICRESDC14E is perfect for homes, multi-unit apartment buildings, apartments, retrofitting existing homes, and even small businesses! The ICRESDC14E structured wiring can is durable, economically priced, and will for sure give your installation the most professional look. Installing cabling and devices that support your voice, data, and video applications within in a structured wiring enclosure makes future moves, add, and changes to your systems fast and easy. The ICRESDC14E Net Media Center can be surface or flush mounted, plus it has all the available accessories needed for a complete network installation
The ICRESDC14E is designed with a steel construction, white powder coat finish, and is lightweight and sturdy. For surface mount applications the ICRESDC14E fits between 16" wall studs. It also has 10 internal module mounting spaces to give you plenty of room to configure and organize your cables and services your way! The ICRESDC14E features multiple network modules options, knockouts for cable routing, and numerous installation accessories like a key lock option, electronic device mounting bracket, power strip bracket, security board bracket, and lots more…..
The ICRESDC14E structured wiring enclosure Includes: (1) Door Assembly with hinge, latch, and logo, (2) Door Screws, (2) Rubber Bumpers, (4) Fasteners, (1) Enclosure, (1) Protective Cover, (4) Rubber, Grommets, (4) Mounting Screws
Includes: (1) ICRESDC14E 14" Residential Structured Cabling Enclosure
Designed with steel construction, white powder coated, lightweight and sturdy
Designed to serve as the central distribution point for voice, data, video, audio, and security services for smaller residential structured wiring systems
Allows for internal modules to be mounted horizontally or vertically facilitating easier layout and wiring of the system, while providing for optimum cable management
Integrated snap-in module system enables users to quickly insert or move the internal modules
Supports up to 4 ICCMSCMPR1 or ICCMSCMPR2 Cable Management Rings for organizing and routing cables
Includes 4 top, 3 bottom, 4 rear, and 2 side knockouts for routing cables and 4 cable tie points
Includes a knockout for an optional AC power outlet (not included) to provide power distribution
Fits between 16" wall studs with 10 internal module mounting spaces or can be wall mounted
Designed with a door latch and an optional door lock knockout
Hinged door and NET MEDIA CENTER insert are reversible for opening from left or right
Accommodates all of ICRESXXXXX residential modules
Used with optional accessories including ICRDSDCAC2 distribution center rubber grommets, ICRESDCAC3 distribution center plastic grommets, and ICRDSDC2LK distribution center door lock
Flush mounted door overlaps ¾" to conceal any uneven drywall cuts around the enclosure.
UL listed
Part#: ICRESDC14E
ICRESDC14E Enclosure Important Features:
Hole Pattern: The ICRESDC14E can be used to mount equipment vertically or horizontally for maximum accommodations. The hole patterns on the back off the enclosure fits a huge selection of modules and accessories designed to support your installation and network requirements.
Cable Management Support: Organize and route cable along the sides of the ICRESDC14E enclosure for a clean appearance using items ICCMSCMPR1 or ICCMSCMPR2. (sold separately) (Note: It is recommended to use only one side of the enclosure when mounting the Cable Management Rings. Cable Management Rings sold separately).
Mounting Assistance Marking: Assist in determining the mounting distance the ICRESDC14E needs to be mounted from the finished wall. Markings indicate drywall/sheetrock thickness. Enclosure shall be aligned with the wood or metal studs accordingly prior to drywall/sheetrock application.
Mounting Holes: Mounting holes are found along the sides of the enclosure that suit different mounting configurations.
Knockouts: Knockouts are conveniently placed on all sides of the ICRESDC14E for cable management. This gives you the flexibility to manage and organize cabling from any direction.
Electrical Knockout: A set of electrical knockouts are located at the bottom of the enclosure for mounting up to 4 electrical outlets. Installing power into the ICRESDC14E allows you to power routers, switches, modems, security panels, and any other devices you use in your network enclosure that require power.
---
Related Products