Belden Double Bubble BNC Connectors for the Toughest Environments!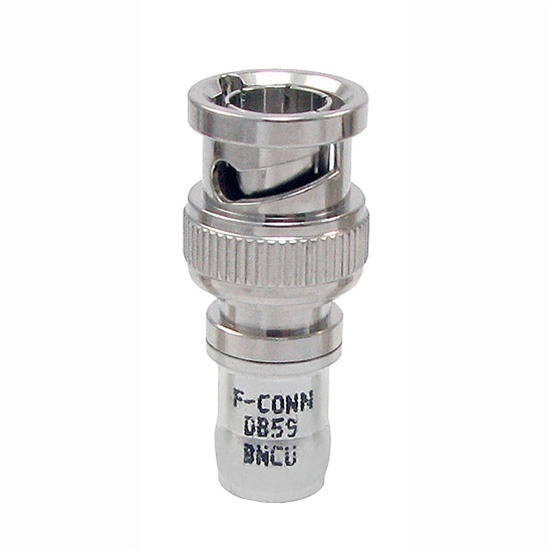 If you are terminating BNC connectors in tough outdoor environments there is no better option than to use the Belden Double Bubble BNC connector system! No other connector gives your terminations the protection they need to survive in tough all weather conditions. The Belden Double Bubble BNC Connectors offer a fully integrated compression tool and connector system that ensures the most permanent and best performing connections for video applications using coaxial cables. The Double Bubble system is by far the most trusted system used by commercial surveillance system installers all over the United States. No other BNC connector system uses the "double bubble" technology to provide a superior 360 degree compression crimp termination. You will not find this technology in any other connector system!
Belden offers Double Bubble BNC Connectors for use with plenum and non-plenum RG6 and RG59 coaxial cable. These are the two most common cable types used in professional surveillance system installations. The key to the success of the "Double Bubble" connectors is that they offer a permanent 360° water-tight seal on the cable which provides superior pull-out strength while reducing signal ingress and egress. Their one-piece design eliminates loose pins and sleeves minimizing installation time. They also offer a patented non-blind entry system that guides the cables center conductor into the connector prior to compressing. The no-blind entry mechanism ensures that each termination is done properly which saves time and money since there are no terminations that fail. There is no doubt that the Belden Double Bubble BNC Connectors are the most reliable, long lasting, and high performing BNC connectors on the low voltage market. 
To terminate the Belden Double Bubble BNC Connectors you must use the Belden Cable CPLCRBC-B Compression Tool. This is the only tool that will work with the Double Bubble connector system. The CPLCRC-B Double Bubble Tool is made from heat treated high carbon steel for maximum strength and durability. It comes with fixed compression dies inside the tool and the self-adjusting plunger head provides consistent compression without having to recalibrate after each use. The CPLCRC-B Double Bubble Tool is designed as a one -step, one-tool system for all coaxial cable terminations. It also allows you to terminate Double Bubble RCA and F Type connectors in all coaxial cable environments. It is by far the last compression tool you will ever have to buy! 
The Belden DB59BNCU is core BNC Connector of the system. It is designed for termination on non-plenum RG59 coaxial cables. It is one of the most trusted BNC connectors on the market for both residential and commercial video applications. Many professional installers rely on the DB59BNCU for superior signal quality and total protection of connections. The truth is that over 80% of security camera failures are connector related. So for a professional installer having to go back out to past jobs and fix connections means more time and more money. The DB59BNCU ensures long lasting BNC connections that perform, and are built to last. 
Cabling Plus is an Authorized Distributor of the entire line of Belden Double Bubble connectors and tools. If you need assistance in choosing the right connectors for your installation give us a call. We have wire and cable experts on staff that will help you choose the best products for the job.