CPLCRBC-B - ICM Cable Pro Double Bubble Compression Crimp Tool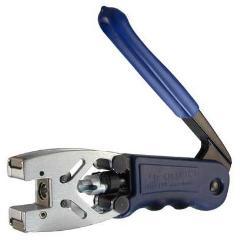 Related Categories
The ICM CPLCRBC-B is a professional grade compression crimping tool used for terminating BNC, RCA and F connectors in both commercial and residential coaxial cable installations. This CPLCRBC-B premium compression crimp tool uses a patented crimping method that creates two 360 degree terminations (one interior and one exterior) that provide a permanent, "double bubble" terminations. No other tool provides stronger, longer lasting coaxial cable terminations!
The CPLCRBC-B is the key component of the ICM double bubble system that is the #1 connector system for terminating cables in areas where environment conditions are the toughest! No other tool and connector system better protects your terminations from moisture, water, or dust that could cause connections to fail!
In order to use the CPLCRBC-B compression tool you must use the ICM double bubble compression connectors. The double bubble system offer a complete line of connector option in both plenum and non-plenum types. For best results use the ICM Cable Pro PSA59/6 cable stripper to prepare your coaxial cables for successful terminations!
Includes: (1) CPLCRBC-B Compression Crimping Tool
Works with full line of RCA, BNC, and F connectors in Plenum and Non-Plenum
For best results prepare your cables with the ICM PSA59/6 cable stripping tool
For use with ICMs DB 360 Compression Connection System
Light, compact and easy to use and has no adjustable parts
Radial Taper Compression Tool
Made in the USA
Part#: CPLCRBC-B
---
Related Products