PSA59/6 - ICM Cable Pro Coaxial Cable Stripper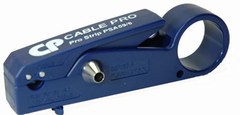 Related Categories
The Belden Cable Pro PSA59/6 Cable Stripper has a reputation of being the #1 coaxial cable stripper in the industry. It is the most common coaxial cable stripper found in the tool bag of professional low voltage installers. Designed to prepare RG6 and RG59 coaxial cable prior to termination, the PSA59/6 makes stripping coaxial cables faster and easier that ever!
The PSA59/6 Cable Stripper will allow you to strip and prepare both plenum and non-plenum RG59 and RG6 coaxial cables. It will even strip the thicker RG6 Quad Shield cables often used in satellite or commercial video applications. The PSA59/6 uses an innovative dial that allows you to quickly change between RG6 and RG59 on the fly in the middle of an installation. It features a "cable stop" mechanism that ensures a perfect 1/4" x 1/4" strip each and every time while using sharp long lasting stainless steel blades that guarantees clean precise cuts. The PSA59/6 includes an on-board RG6 flaring tool and an extra blade cartridge for future use.
The Belden Cable Pro PSA59/6 Cable Stripper is a must have tool for any professional installer, technician, or do-it-yourselfer. No other coaxial cable stripper simplifies the entire cable preparation process like the PSA59/6. If you are installing cable TV lines, satellite TV systems, RF systems, or CCTV systems this will be the last coaxial cable stripper you will ever need!
Includes: (1) PSA/59/6 Coaxial Cable Stripper
Preps RG59 and RG6 Coaxial Cables
Stripper cartridges come preset from the factory at the standard 1/4 x 1/4 inch prep.
Blades may be adjusted to different prep lengths on the PSA59/6/RGB cartridge
Spare cartridge is included
Includes RG6 Flaring Tool on side
Part#: PSA/59/6
Why is the ICM Cable Pro PSA59/6 such a popular coaxial cable stripper?
The PSA59/6 is very easy to use and prepares coaxial cables perfectly prior to terminating them with a connector. Much of its popularity is due to fact it is recommended for use with all the ICM Cable Pro compression crimping tools and the ICM F-CONN compression connectors, which are the most popular products among professional A/V and home theater installers. It only makes sense to use the connectors and tools that are recommended and manufactured by the same company.
Is the PSA59/6 just for use when preparing RG6 coaxial cable?
No. You can use the PSA59/6 for all RG6 and RG59 coaxial cables products. This includes different versions of them both, such as quad shield, plenum rated, and non-plenum cables. This is why the PSA59/6 is so popular amongst all professional A/V, home theater, cabling, and surveillance installation professionals.
How does the PSA59/6 work with both RG59 and RG6 coaxial cables?
The PSA59/6 has a simple to use on-board knob that allows you to quickly adjust the settings from RG59 to RG6 depending on the cable type you are working with.
What are the measurements that the PSA59/6 strips cables at?
The PSA59/6 comes preset from the factory at the standard 1/4" x 1/4" prep., which is also a known industry standard. What makes it so unique is that it features a patented "cable stop" component that allows you to push the end of your cable against it prior to stripping. The "cable stop" feature takes the guessing game out of preparing a cable and ensures that the cable is perfectly stripped every time.
What are some other unique features of the PSA59/6 coaxial cable stripper?
This is the best tool because unlike most other coaxial cable strippers, the PSA59/6 does not force you to hassle with screws, keys, or any other adjustment pieces. All it has is a single adjustment dial that you can simply turn with your fingers. It also includes integrated rollers to ensure precise cuts, an integrated RG6 fairing tool, and an extra back up blade cartridge.
Does the PSA59/6 coaxial cable stripper work with all connector brands?
The PSA59/6 prepares your cables to match the industry standard for most quality connectors. So many installers do use this cable stripper with other brands. For best results we always recommend that you use the compression tool, cable stripper, and connectors all from the same brand company. This will ensure you always have success. If you have never used the ICM compression connectors and tools you should give them a try. It will be the last brand you every try.
---
Related Products