CPLCCT-SLM - Belden Cable Pro Linear Compliant Compression Tool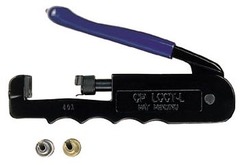 Related Categories
The Belden Cable Pro CPLCCT-SLM is the #1 selling professional grade compression tool on the market! No other compression tool performs more quality compression terminations in the home theater, audio video, CCTV, and network cabling industries! Plus the CPLCCT-SLM compression tool is designed to terminate the complete line of Belden F-Conn compression connectors, which are the highest quality compression connectors made!
This premium compression tool has four interchangeable tips allowing installers to compress a variety of connector types that include F, RCA, and BNC in nickel or gold. The CPLCCT-SLM can also compress Belden's right angle connectors, speaker connectors, and standalone splices that work with a patented Wall Plate System. The CPLCCT-SLM offers a full 360 degree compression crimp, solid steel construction, and a ergonomic design for comfort when terminating numerous compression connectors!
The CPLCCT-SLM compression tool is the professional installer's choice for low voltage connector installations! If you are looking for the most innovative professional installer tool in the low voltage industry look no further than the Belden Cable Pro CPLCCT-SLM Compression Tool!
Includes: (1) CPLCCT-SLM Compression Tool
Patented 360 degree compression rings on all connectors provide TRUE 360 degree compression.
Get a quality signal with a permanent connection, eliminating future trouble spots because of poor connection
Radial design and patented internal ring system reduces ingress/egress at the connector.
All-brass compression connectors plated in nickel or gold withstand 80 pounds of pull out force so you know your connection is solid.
Belden's patented non-blind entry on our connectors allows installers to see when the wire is set in the pin before compression.
Belden incorporates all F-Conn connectors and Cable Pro tools into a complete system for each step of the installation process, reducing costly errors and training time.
Made in the USA
Part#: CPLCCT-SLM
Will the Belden Cable Pro CPLCCT-SLM Compression Tool work with all connectors?
The CPLCCT-SLM compression tool is one of the most popular compression tools on the market. But the truth is not all compression tools are not compatible with all compression connectors. For best results we recommend using the F-CONN compression connectors that are made to be 100% compatible with the CPLCCT-SLM tool. Use this complete system and you will ensure all your connections are easy and effective.
Do I need extra parts when I buy the Cable Pro CPLCCT-SLM Compression Tool?
No. The tool comes with everything you need to start successfully terminating cables. There are no extra dies or parts to purchase. When you purchase the CPLCCT-SLM tool you get the tool, multiple dies for various applications, and simple to read instructions. The CPLCCT-SLM tool is very easy to use and is ready to go to work right out of the box.
What connector types can I terminate with the Cable Pro CPLCCT-SLM Tool?
The CPLCCT-SLM compression tool is ideal for terminating RCA, F type, and BNC connectors on coaxial cables. It will also terminate the F-CONN compression speaker connectors on standard 12, 14, and 16 gauge speaker wires. Besides the most popular compression connector types, the F-CONN connector system offers numerous other unique connectors and connector systems that are compatible with the CPLCCT-SLM tool. The complete flexibility, ease of use, and durability makes the CPLCCT-SLM tool the most popular compression tool for all surveillance, home theater, and network cabling applications.
Are compression connectors better than crimp connectors?
100%. Using a compression tool and connector system will ensure your connectors are terminated the best way for quality, connectivity, and performance. Since a compression connection is essentially a 360 degree clamp on a cable there is no room for moisture or dust to enter the termination. This will ensure long lasting strong terminations.
How long with the Cable Pro CPLCCT-SLM Compression Tool last?
If you take good care of it than it should last forever! It offers a durable steel construction that makes it almost bullet proof. Try it once, and it will be the last tool you ever try! We have switched over numerous customers to the CPLCCT-SLM tool and the F-CONN connector system and every customer thanks us after!
---
Related Products