280704 - Vanco HDMI 1x4 Splitter with IR Control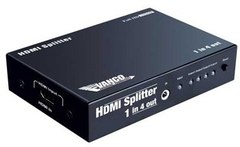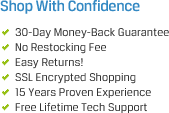 Related Categories
The Vanco 280704 is a high performance 1x4 HDMI splitter used for both commercial and residential audio video HDMI applications. It allows 1 HDMI source to be connected to 4 HDMI devices. The 280704 is 3D ready, supports digital audio formats DTS-HD/Dolby-True HD/LPCM7.1/AC3/DTS/DSD, and features a high speed chip set that supports 4K x 2K. The unit's simple installation expands your HDMI viewing options in mere seconds - simply plug in the desired devices and you are ready to view. 
The Vanco 280704 HDMI 1x4 Splitter has the capability of being controlled via IR signals. The switch can be controlled from the display. This is accomplished by using an optional IR Receiver pigtail pointing away from the display(s), which can be connected with the HDMI IR Adapter, and inserted between the HDMI cable connector and the display with the toggle switch at the 'IR' position. The IR Transmitter / Sender / Emitter pigtail is then connected to the switch and pointed at the source(s). A remote control is used at the display to select switch inputs and outputs. (This is only compatible with Vanco's Super HDMI IR Accessories)
The Vanco 280704 HDMI 1x4 Splitter has been tested for compatibility with all leading HD video brands and Dolby 7.1 home theater systems. It is HDCP compliant, and features IR control and a built-in equalization support output.
Includes: (1) 280704 HDMI 1x4 Splitter with IR Control 
Allows 1 HDMI source to be connected to 4 HDMI Displays Devices
High Speed Chip Set that Supports 3D, 4K x 2K
Full HD1080P/60 HZ
HDCP Compliant
Supports Digital Audio Format, DTS-HD/Dolby-True HD/LPCM7.1/AC3/DTS/DSD
Built-in equalization support output
Unique Circuit Design Allows for Protection against High Voltage and Peak Currents
Tested for Compatibility with all leading HD Video brands
Tested with Dolby 7.1 Home Theater Systems
Optional Super IR control system, IR transport channel can be forward or backward. HDMI IR adapters (Part # 280703) and IR transmitters and receivers are needed (Part #s 280720, 280721)
Shelf Mounting
5V DC, UL Listed Power Supply
Dimensions: 4.375" W x 1" H x 3" D
Part#: 280704