SK-1323-SPQ - SECO-LARM Weatherproof Access Control Keypad & Proximity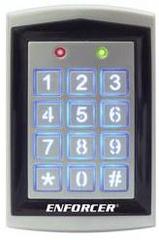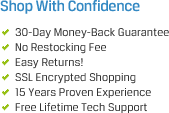 Related Categories
The SECO-LARM SK-1323-SPQ is a weatherproof stand-alone access control keypad and proximity card reader combo controller designed to support outdoor residential and commercial access control applications. The SK-1323-SPQ allows you to support up to 1,010 users that can be programmed right from the keypad. This unit is a complete stand-alone access control system that does not need any external programmers or extra software to function.
The SK-1323-SPQ supports a 12-15 VDC operation and includes an IP65 weatherproof rating that guarantees long lasting performance in even the toughest environmental conditions. The SK-1323-SPQ features colored status LED's, (2) egress inputs and (1) door sensor input, optical tamper sensor for added security, backlit keys for nighttime use, and EEPROM memory that protects the programmed information in case of power loss. The SK-1323-SPQ easily mounts into a single gang box, allows each relay to be programmed with time 1-99 seconds, and includes (2) form C relays, with each relay rated 1 Amp @ 30VDC.
The SECO-LARM SK-1323-SPQ includes both a keypad and built in proximity card reader so you can control various credential methods to manage your overall security processes. You have an option to program the system to require card only, card or code, and card with code entry methods. The SK-1323-SPQ is very simple to integrate and provides a cost effective solution to add access control to increase security measures at the home or business.
Includes: (1) SK-1323-SPQ Weatherproof Access Control Keypad & Proximity
12~15 VDC operation
1,010 Users (Output #1: 1,000 users, Output #2: 10 users)
2 Form C relays, each rated 1 Amp @ 30VDC
Built-in proximity card reader
Programmable access modes for Output #1: Card
Only, Card or Code, and Card with Code
Output #2 may have either a card or a code programmed for each user
Each relay has programmable output time from 1~99 seconds or toggle
Output #2 can be programmed for use with a doorbell
2 Egress inputs and 1 door sensor input
Backlit keys for easy nighttime use
Two multi-colored status LEDs
Able to mount to a single-gang back box
All features are programmed directly from the keypad—no need for an external programmer
EEPROM memory protects programmed information in case of power loss
Optical tamper sensor for added security
Circuitry is potted with epoxy for outdoor use
IP65 weatherproof rating, rugged aluminum construction
Part#: SK-1323-SPQ