SK-1123-FQ - SECO-LARM Flush-Mount Outdoor Access Control Keypad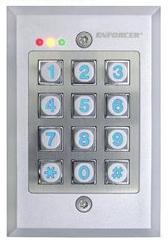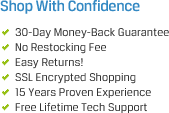 Related Categories
The SECO-LARM SK-1123-FQ is a stand-alone flush-mount outdoor access control keypad that is ideal for office, commercial, and home security installations. This self-contained security keypad has a built-in 5-Amp relay output and a 100mA transistor ground output for maximum flexibility when connecting to electronic door strikes, door alarms, door chimes, alarm control panels, or other security and access control components. The outputs on the SK-1123-FQ can be programmed for timed (1~999 seconds) or ON/OFF operation, and this unit includes a mantrap feature that will only allow a protected area with (2) doors to open one door at any given time.
The SK-1123-FQ can be programmed for up to 100 4-digit to 8-digit user codes for the primary output, and up to 10 4-digit to 8-digit user codes for the secondary output. All programming and code information is stored in non-volatile EEPROM memory to protect the data in case of power loss. This flush-mount stand-alone controller featured programmable LED keys, code flexibility, and an egress input for exiting the protected premises.
The SK-1123-FQ offers all the reliable and critical security features needed for a successful access control system installation. Install this stand-alone keypad to increase the security measures at any entry locations.
Includes: (1) SK-1123-FQ Flush-Mount Outdoor Access Control Keypad
2 relays: Main relay (Form C 5A@30VDC), Auxiliary (Transistor ground 100mA@24VDC)
Each relay can be programmed for momentary (1-999 seconds) or latch
Programmable LED keys: Full-time ON, ON when keys are pressed, Full-time OFF; suitable for solar applications
Code flexibility: Each code can be 4~8 digits long
Egress input for exiting the protected premises
Dual voltage: 12~24 VDC/VAC operation
Tamper switch: N.C. dry contact 3A@12VDC
Mantrap: For a protected area with 2 doors, this feature allows only 1 door to be open at any time
All features are programmed directly from the keypad, eliminating the need for an external programmer
Duress output: Signals a silent alarm if an authorized user is forced to open the door under duress
Door-forced-open and door-propped-open alarm output
Door-hold-open mode available
Keypad can be programmed to emit beeps for key presses or operate in silent mode
Auto or manual code entry checking: Auto: No # key required after each code, Manual: # key must be pressed after every code
Part#: SK-1123-FQ