1GSPWH-GR10 - Midlite Single Gang Splitport Plate with Grommet, White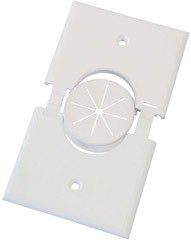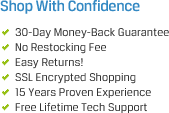 Related Categories
The Midlite 1GSPWH-GR10 is a low voltage cable wall plate designed with keyed tab features to structurally withstand pulling and pushing of cables as the installer organizes them for a neat "dress out presentation." The 1GSPWH-GR10 wall plate is easy to install and allows cables to be added without disconnecting cables. 
To install the 1GSPWH-GR10 plate install one half and then the second half, all while the cabling is held or lying naturally out of the way, or just assemble around the cables and slide into position and secure to electrical box. Add the grommet insert to maintain a closed area leaving an aesthetically clean appearance. The integrated grommet will ensure one cable or multiple cables will look equally presentable.
The 1GSPWH-GR10 is an innovative wall plate that supports a fast and professional installation. It is ideal for all low voltage cable installations in security, surveillance, home theater, and network cabling.
Includes: (1) 1GSPWH-GR10 Single Gang Splitport Plate with Grommet
Contractor Size Wall Plate to cover plaster imperfections around low voltage ring
Allows cables to be added without disconnecting cables
Wall plate fits tightly around cables and mounts to standard J Box
Grommet blocks air passage through wall plate for improved air cooling
Color: White
Hole Size 1.4'' (Diameter)
Hole Area 1.65'' (Sq. In.)
Mounting screws included
Part#: 1GSPWH-GR10