GEU-1621 - LevelOne 16-Port 10/100/1000Mbps Gigabit Switch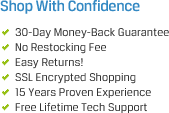 Related Categories
The GEU-1621 is equipped with 16 Gigabit ports that support real Gigabit connections. Users are able to transfer large and high bandwidth-needed files faster, and hence get a real improvement of efficiency. The store-and-forward architecture of the GEU-1621 filters errors and forwards packets in a non-blocking environment. Flow control ensures the correctness of data transmitting. The IEEE 802.3x and backpressure flow control mechanisms work respectively for full and half duplex modes.
The GEU-1621 supports IEEE 802.3az Energy Efficient Ethernet to provide power-saving benefits without compromising the performance. The switch automatically enters the sleep mode, if there is no link activity detected, using less energy than idling at full power.
The GEU-1621 switch supports Nway auto-negotiation protocol to detect the networking speed (10/100/1000 Mbps) and the duplex modes (Full/Half) automatically. Auto-MDI/MDI-X function eliminates the effort to use crossover cables. Diagnostic LEDs on the GEU-1621 are provided to get real-time information of the connection status and network.
Includes: (1) GEU-1621 16-Port 10/100/1000Mbps Gigabit Switch
Complies with IEEE 802.3, IEEE 802.3u, IEEE 802.3ab and IEEE 802.3az standards
16 x 10/100/1000Mbps RJ-45 Nway ports
Supports NWay protocol for speed (10/100/1000Mbps) and duplex mode (Half/Full) auto-detection
Supports MDI/MDI-X auto crossover
Supports full and half duplex operation on all copper ports
Supports back-pressure (half duplex) and flow control (IEEE 802.3x)Wire-speed packet filtering and forwarding rate
Store-and-forward architecture filters fragments & CRC error packets
Supports 9K bytes Jumbo frame
Supports 8K bytes MAC address entries in whole system
256K Bytes buffer memory
Internal power adapter (100~240VAC/50~60Hz universal input)
Complete kit with switch, power cord, installation guide, 19" rack mounting accessories
LED Indicators: Power, Link.AC
Emissions: FCC/CE/VCCI Class A
Dimensions: 215.5 x 133 x 42m
Part# GEU-1621