FSW-0811 - LevelOne 8-Port 10/100Mbps Fast Ethernet Switch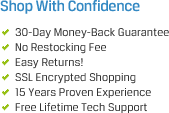 Related Categories
The LevelOne FSW-0811 is a compact 8-port Fast Ethernet Switch. It is a high-performance, cost-effective and easy to use network switch for expanding home and office networks. The FSW-0811 8-port Fast Ethernet Switch is an easy to install "plug-and-play" switch, allowing users to either create a Local Area Network (LAN) or connect additional network devices, such network cameras, storage devices or print servers, to an established network.
The FSW-0811 delivers 200Mbps bandwidth per port and incorporates a non-blocking wire-speed switching architecture for seamless transferring of data through the network. All ports support auto-negotiation and auto-MDI/MDIX sensing, eliminating the need for crossover cables or Uplink ports. Each port can be used as general network ports or as connecting ports into a router, server, hub or another network switch.
The FSW-0811 is a LevelOne certified green device! It can tell if there is activity on each individual LAN port. If it only has 6 active devices connected to it, power is saved because no traffic is routed to the 2 inactive ports. It is also able to detect the distance of the connected device and adjust its power accordingly. Plus the FSW-0811 also features a sleep/standby mode for when the connected devices are powered down and no active links are detected. This helps save energy consumption during extended periods of network inactivity, such as nights, weekends and holidays.
The FSW-0811 includes power adapter, user manual, and wall mounting kit.
Includes: (1) FSW-0811 8-Port 10/100Mbps Fast Ethernet Switch
Complies with IEEE Half- and Full-Duplex standards
Features 8 Auto-Negotiation 10/100Mbps RJ45 ports supporting Auto-MDI/MDIX
Supports MAC address auto-learning and auto-aging
Full LED display panel for error detection and network monitoring
Compact design for desktop or wall-mounting
Plug-and-Play enabled for easy setup and configuration
Save up to 15% power compare to non Green Switch with similar functions
Standards: IEEE 802.3 10Base-T Ethernet, IEEE 802.3u 100Base-TX Fast Ethernet, IEEE 802.3x Flow Control and Back Pressure
Uplink: Auto MDI/MDI-X (Auto crossover)
MAC Address Database: 1,000
Dimensions: 141mm (L) x85mm (W) x 27.5mm (H)
Certifications: FCC Class B, CE
Part#: FSW-0811