0200-1-001-01 - Kendall Howard 10-32 Cage Nuts, 50 Pack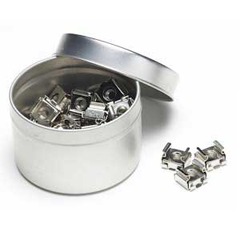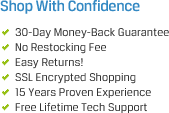 Related Categories
Kendall Howard 0200-1-001-01 10-32 Cage Nuts are used to install rackmount equipment into server rack cabinets, 4-post racks, wall mount cabinets and racks, and 2-post racks. Cage nut style rails are often referred to as universal mounting rails, which are the most common type of rails used today. If a rack or cabinet has cage nut style rails or universal mounting rails, they will require cage nuts. The thread size of the cage nut and the thread size of the screw must be the same to properly install rackmount components.
Using the Kendall Howard 0200-1-001-01 10-32 Cage Nuts ensures your equipment can be mounted securely to a rack device without damaging or stripping out screws. Cage nuts are a must have to ensure the longevity of our racking system.
The Kendall Howard 10-32 Cage Nuts are made in the USA, from high quality American steel and are packaged in metal re-sealable tins. They are available in 50, 100 and 2500 packs.
10-32 Rack Screws Sold Separately
Includes: (1) 0200-1-001-01 10-32 Cage Nuts 50 Pack
50 Pack
Available in 50, 100, and 2500 packs
Packaged in a metal re-sealable tin
10-32 zinc finish
ROHS complaint
Made in the USA
Requires 10-32 Rack Screw
Part#: 0200-1-001-01