IC625SV2WH - ICC Dual 6P6C RJ11 Voice Jack Surface Mount Box, White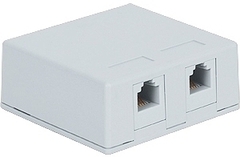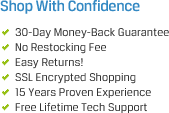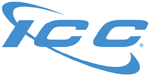 Related Categories
The ICC IC625SV2WH White Dual 6P6C RJ11 Voice Jack Surface Mount Box provides 2-Port, RJ-11 loaded with EZ style voice jacks. The IC625SV2WH is designed to save installer time and reduce the need for multiple parts. The IC625SV2WH is fully loaded and ready for a fast and easy surface mount voice jack installation.
The IC625SV2WH is ideal for mounting in multiple surfaces such as horizontally and vertically in space restricted areas so patch cords may exit sideways or downward. It provides a clean modular surface mount outlet solution for voice and other communication needs to the work area for commercial or residential applications.
The ICC IC625SV2WH White 6P6C Dual RJ11 Voice Jack Surface Mount Box is ideal for installations where traditional in-wall faceplates are not an option. It has a rugged and durable construction, with multiple mounting options including double-sided adhesive backing and screws. The IC625SV2WH Surface Mount Jack also includes integrated cable tie holes to secure cable.
Includes: (1) IC625SV2WH White 6P6C Dual RJ11 Voice Jack Surface Mount Box
Features (2) Integrated RJ11 Voice Jacks
Provides a clean modular surface mount outlet solution of voice and other communication needs to the work area for commercial or residential applications
Ideal for installation where mount boxes and faceplates are not practical
Multiple mounting options including double-sided adhesive backing and screws
Recessed area for ID label
Rugged and durable construction
Fully loaded and ready for installation
Rear opening and side knockouts for cable entry or exit
Integrate cable tie holes to secure cable
Part#: IC625SV2WH