HTC-3006HS - Hunt Electronics Covert Smoke Detector Camera, 580TVL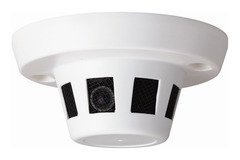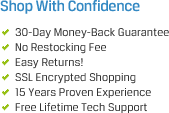 Related Categories
The Hunt Electronic HTC-3006HS is a high resolution 580TVL smoke detector camera designed for covert surveillance applications. It looks just like a real smoke detector! The HTC-3006HS is a feature rich covert camera that includes a 3.7mm wide angle fixed lens to deliver a 45 degree view of an area. 
The HTC-3006HS is perfect for residential and commercial surveillance installations. If you have an area where you do not want employees, customers, or visitors to know they are under surveillance this is the ideal security camera option. It provides high resolution video while supporting numerous features like back light compensation, gain control, electronic shutter, auto white balance, and much more!
The HTC-3006HS is simple to mount and includes a 12VDC transformer for power. You can use the included power supply or add the camera to your current multi-camera power supply.
Includes: (1) HTC-3006HS 580TVL Covert Smoke Detector Camera
Full digital Back Light Compensation
1/3" CCD Sensor
580 Lines of Resolution
3.7mm Wide Angled Lens
Auto White Balance
45 Degree Side View
Electronic Shutter up to 1/100,000
2:1 Interlace
Automatic Auto Gain Control
0.45 Gamma Correction
Flick less Functionality
Power Requirement: 12VDC 
Power Consumption: 220mA for 12V DC
Part#: HTC-3006HS