DVFR2W - Arlington Industries Double Gang Recessed Electrical Box, White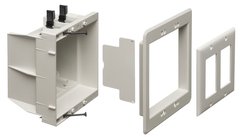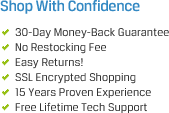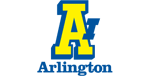 Related Categories
The Arlington Industries DVFR2W is a double gang recessed electrical box used to recess power plugs and low voltage connections in the wall to make room for furniture, home theater equipment, or flat panel TV's. The DVFR2W supports both new and retrofit construction installations and is the perfect solution for saving space behind TV's or anywhere else that space is limited.
The DVFR2W offers all the parts needed to configure your recessed box your way! The double gang design gives you plenty of room to manage numerous connections. You could install up to two power outlets or just one, while you use the other side to mange numerous low voltage outlets that support audio, video, or various other home theater connections.
The DVFR2W features heavy duty mounting wings that hold the bracket securely against wall when screws are tightened. The end result will be a clean, organized, and professional installation!
Includes: (1) Double Gang Recessed Electrical Box
Color: White
New or retrofit use
Double Gang
Dual voltage allows for power and low voltage use with included divider
Accepts standard 2 gang wall plates
Integrated NM cable holder, 1/2" or 3/4" knockouts
Panel cut out dimensions: 5.1" W x 5.9" H
Overall dimensions: 6.0" W x 6.625" H x 4.0" D
Impact resistant plastic results in less breakage on jobsite
Removable front flange
Works with 2x4 studs and 1/2" or thicker sheet rock
UL Rated E170558 Non-metallic Electrical Boxes
Includes mounting screws
Part#: DVFR2W