6E04FPBL2 - Cat 6e Shielded Plenum Cable, 1000ft Box, Blue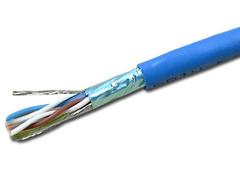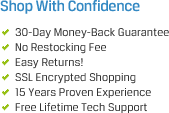 Related Categories
For project pricing and freight quotes on large wire & cable orders please call us now! 1-855-818-5556
Use our Cat 6e shielded plenum cable for network installations performed in the toughest environments. Cat 6e shielded plenum cable features an overall foil shielding to give your network signals extra protection from Electro-Magnetic Interference that can hinder your signals performance. As a result the shielding ensures your network signals perform at the highest speeds which means better data transmission.
This Cat 6e shielded network cable is 550 MHz tested and ideal for high speed Gigabit and Ethernet applications. Its construction includes 23 AWG solid copper conductors, PVC jacket, foil shielding with a drain wire, and a spline filler to maintain the cables twist.
Using shielded Cat 6e cable is very common when installing voice and data networks, IP cameras, Wi-Fi hot spots, video network, or for cabling any device that requires a network signal and connection.
The CMP or Plenum Rating of this cable means it has a special compound in the jacket to ensure it slow burns and does not allow harmful toxins into the air flow system of a building in the case the cable is caught on fire. Using CMP or Plenum Rated cables is required when installing cables in buildings that use plenum ceilings in their construction. It is important to follow your local business codes and use the right cables for the installation.
Includes: (1) 1000ft Box of 550MHz Blue Shielded Plenum Cat 6e Cable
Color: Blue
ANSI/TIA/EIA-568 B.2-1 Category 6e
Foil Shielded with Drain Wire
Rated for commercial and residential network applications
ISO/IEC 11801-1995, EN 50173
Plenum – CMP Rated
Conductor: 23AWG Solid Bare Copper
Insulation: Polyethylene
Guaranteed for 6 dB of margin (headroom) over base requirements of current TIA/EIA proposed Category 6E NEXT standards
Positive identification striping on 100% of conductor length
Easily identifiable conductor mates
ETL verified to TIA/EIA 568-A-5 and ISO/IEC 11801
Warranted with leading connectivity manufacturers
Part#: 6E04FPBL2