AQC293 - West Penn Aquaseal 18-2 Stranded Shielded Cable, 1000ft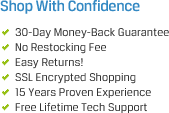 Related Categories
The West Penn AQC3186 Aquaseal 18-2 Stranded Shielded Cable is designed for indoor and outdoor use in intercom, security, sound, audio, and control applications. It features 6 conductors that can support signal and low power in a variety of installation types. The AQC3186 features an overall shielding with a drain wire, and includes a 2 ply water swellable tape construction that protect the cable when installed in wet environments. This cable also features a UV rated jacket to protect the cable in exposed environments.
The AQC3186 should be installed in a conduit when used in underground applications.
The West Penn AQC3186 Aquaseal 18-2 Stranded Cable is constructed using (6) 18 gauge stranded bare copper conductors that are color coded Black and Red. The AQC3186 is also 300 volt rated.
Includes: (1) AQC293 Aquaseal 18-2 Stranded Cable 1000ft
Jacket Color: Grey
1000ft Spool
Conductor: 18 AWG Bare Copper
Stranding: 7x26
Insulation Material: PVC
Insulation Thickness: 0.010" Nom.
Number of Conductors: 2
Shield: 100% Aluminum Polyester Foil
Drain: 24AWG Stranded Tinned Copper
Water-Blocking Tape: 2 ply water swellable tape
Jacket Material: Sunlight/Moisture Resistance PVC
Jacket Thickness: 0.025'' Nom.
Overall Cable Diameter: 0.257'' Nom.
Approximate Cable Weight: 52 Lbs. /1M' Nom.
Flame Rating: UL 1685 Vertical Tray
Temperature Rating: -20deg C to 60deg C
Operating Voltage: 300 V RMS
Max. Capacitance Between Conductors @ 1 KHz: 39pf/ft Nom.
DC Resistance per Conductor @ 20deg C: 6.2 Ohms/1M' Nom.
Insulation Colors: Black, Red
Jacket Color: Gray
TIA455-82B Water Infiltration Test Compliant: Yes
UL 444 & 13 Compliant: Yes
Part#: AQC293
Part# AQC293
Description: 18/2 Stranded bare copper conductors, unshielded with an Aquaseal tape and overall jacket.
Ratings: CM / CL3 / FPL, NEC Article 800, 725, and 760
Approvals: (UL) Listed
Applications: Materials suitable for outdoor use, and indoor trays, allows a variety of uses for (Intercom, Security, Sound, Audio, Background music, and Fire Alarm Circuits)