AQC224 – West Penn Aquaseal 18-2 Stranded Cable, 1000ft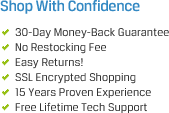 Related Categories
The West Penn AQC224 Aquaseal 18-2 Stranded Cable is designed for indoor and outdoor use in intercom, security, sound, audio, and fire alarm applications. The Aquaseal technology uses a water tape technology that protects the cable from moisture and condensation. elements. The AQC224 also features a sunlight resistant jacket to ensure long lasting use in exposed areas.

The AQC224 is designed to be installed in a conduit when used for underground use.
The West Penn AQC224 Aquaseal 18-2 Stranded Cable is constructed using (2) 18 gauge stranded bare copper conductors that are color coded black and red. It is designed to support all 300 volt or less applications. West Penn only uses the best quality products in the construction of their multi-conductor cables.
Includes: (1) AQC224 Aquaseal 18-2 Stranded Cable 1000ft
Jacket Color: Grey
1000ft Spool
Conductor: 18 AWG Bare Copper
Stranding: 7x26
Insulation Material: PVC
Insulation Thickness: 0.010" Nom.
Number of Conductors: 2
Shield: N/A
Drain: N/A
Water-Blocking Tape: 2 ply water swellable tape
Jacket Material: Sunlight/Moisture Resistance PVC
Jacket Thickness: 0.025'' Nom.
Overall Cable Diameter: 0.218'' Nom.
Approximate Cable Weight: 39 Lbs/1M' Nom.
Flame Rating: UL 1685 Vertical Tray
Temperature Rating: -20deg C to 60deg C
Operating Voltage: 300 V RMS
Max.Capacitance Between Conductors @ 1 KHz: 30pf/ft Nom.
DC Resistance per Conductor @ 20deg C: 6.2 Ohms/1M' Nom.
Insulation Colors: Black, Red
TIA455-82B Water Infiltration Test Compliant: Yes
UL 444 & 13 Compliant: Yes
Part#: AQC224
Part# AQC224
Description: 18/2 Stranded bare copper conductors, un-shielded with an Aquaseal tape and overall jacket.
Ratings: CM / CL3 / FPL, NEC Article 800, 725, and 760
Approvals: (UL) Listed - For conduit use.
Applications: Materials suitable for outdoor use, and indoor trays, allows a variety of uses for (Intercom, Security, Sound, Audio, Background music, and Fire Alarm Circuits