AQ246 - West Penn Aquaseal 14-4 Stranded Multi-Conductor Cable, 1000ft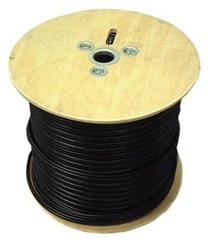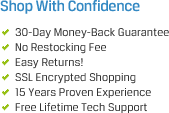 Related Categories
The West Penn AQ246 Aquaseal 14-4 Stranded Cable is designed for indoor and outdoor fire, security, and control applications. It features 4 conductors that can support low voltage power, signal and circuit requirements. The AQ246 also features the West Penn Aquaseal technology that uses a 2 ply water swellable tape to protect the cable when installed in wet environments. This cable also features a UV rated, moisture resistant jacket that makes it ideal for exposed and underground applications.
Using 14 gauge cables is very common in low voltage installations where longer than normal cable runs are present. The thicker gauge conductors mean a bigger pipe and less voltage drop for your signals.
The AQ246 is Direct Burial Rated
The West Penn AQ246 Aquaseal 14-2 Stranded Cable is constructed using (4) 14 gauge stranded bare copper conductors that are color coded black, red, brown, and blue. It is also 300 volt rated.
Applications: Security, Surveillance, Security, Access Control, Automation, Controls
Low Voltage Industrial Process Controls
Low Power Circuits
Power Limited Circuits
Power Limited Fire Alarm Circuits
Power Limited ray Cable PLTC
Speaker Level
Includes: (1) AQ246 Aquaseal 14-4 Stranded Fire Alarm Cable 1000ft
Jacket Color: Black
1000ft Spool
Conductor: 14 AWG Bare Copper
Stranding: 7x24
Insulation Material: PVC With Nylon
Insulation Thickness: 0.015" Nom.
Number of Conductors: 4
Shield: N/A
Drain: N/A
Water-Blocking Tape: 2 ply water swellable tape
Jacket Material: Sunlight/Moisture Resistance PVC
Jacket Thickness: 0.040'' Nom.
Overall Cable Diameter: 0.395'' Nom.
Approximate Cable Weight: 85 Lbs. /1M' Nom.
Flame Rating: UL 1685 Vertical Tray
Temperature Rating: -20deg C to 60deg C
Operating Voltage: 300 V RMS
Max.Capacitance Between Conductors @ 1 KHz: 32pf/ft Nom.
DC Resistance per Conductor @ 20deg C: 2.7 Ohms/1M' Nom.
Insulation Colors: Black, Red, Brown, Blue
Jacket Color: Black
TIA455-82B Water Infiltration Test Compliant: Yes
UL 444 & 13 Compliant: Yes
Part#: AQ246
Part# AQ246
Description: 14/4 Stranded bare copper conductors, overall unshielded with Aquaseal tape and overall jacket
Ratings: FPL – PLTC, NEC Article 760 And 725
Approvals: (UL) Listed Direct Burial
Applications: Materials suitable for outdoor use, and indoor trays, allows a variety of uses for (Low voltage industrial process control circuits, Power-Limited circuits, Power-Limited fire alarm circuits, Power Limited tray cables PLTC)