6EOSPBK2-T - Cat6e Direct Burial Rated Outdoor Cable, 600 MHZ, 1000ft Spool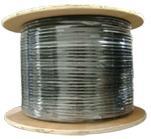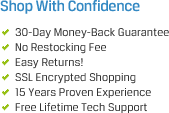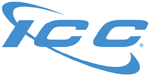 Related Categories
For project pricing and freight quotes on large wire & cable orders please call us now! 1-855-818-5556
The 6EOSPBK2-T is a 1000ft box of direct burial rated outdoor Cat6e cable designed for outdoor or underground network applications. This professional grade outdoor Cat 6e cable has all the characteristics of an advanced high speed UTP cable while offering the ability to withstand any outdoor environmental conditions. This outdoor Cat6e cable features a water-block tape internal construction that is the cleanest and most effective technology used to ensure moisture never enters the cable jacket and causes the cable to fail!
Install this outdoor cat6e cable in conduit, on roof-tops, or bury it direct in the ground and get the assurance that your network will always perform! This outdoor cat 6 cable also features a UV rated jacket to protect the cable from any possible sun damage!
Cable Diameter Specifications:
OD of Cable is .318"
OD of inner conductors is .0395"
Note: in order to use the below "related products" EZ connectors connectors, customer would have to cut out the spline and slit the outside jacket to allow it to fit into the back of the connector.
Includes: (1) 1000ft Spool of 600MHz Direct Burial Rated Outdoor Cat 6e Cable
Direct Burial Rated - Outdoor Cat 6e Cable
ANSI/TIA/EIA-568 B.2-1 Category 6
Rated for commercial and residential network applications
ISO/IEC 11801-1995, EN 50173
Non Plenum – UL 1581, UL 1666, CM, CMR, IEC 332-1, CSA, ETL
Conductor: 23AWG Solid Bare Copper
Insulation: Polyethylene
Guaranteed for 6 dB of margin (headroom) over base requirements of current TIA/EIA proposed Category 6E NEXT standards
Positive identification striping on 100% of conductor length
Easily identifiable conductor mates
ETL verified to TIA/EIA 568-A-5 and ISO/IEC 11801
Warranted with leading connectivity manufacturers
Part#: 6EOSPBK2-T
What is special about the construction of a Direct Burial Rated Cat6e Cable?
It features a water-block tape internal construction that ensures that any moisture or condensation that enters the jacket is immediately absorbed. It also features a PE rated jacket that that adds extra durability and protection. This jacket is also UV rated to protect the cables jacket from direct sun, and any other extreme weather conditions. The overall construction of an outdoor Cat 6 cable will ensure the cable is erosion free and will continue to perform in even the toughest environmental conditions.
When should I use Outdoor Cat 6 cable?
Outdoor rated Cat 6 cable is designed for use in all outdoor applications. This includes installing network cable directly in the ground, in a conduit, or laying cable outdoors where it is exposed to the elements. Using outdoor network cables is very common in both residential and commercial applications for connecting structures or buildings, and installing outdoor network devices. Cat 6 cables are also very popular for use when installing outdoor IP and CCTV cameras.
Does "Direct Burial" mean I can install the cable directly in the ground?
Yes it does. But this is not the best recommended installation method. The best practice is to always install the cable in a conduit or PVC pipe instead of directly burying it in the dirt. This method gives your cable more protection in the case any sharp objects in the ground accidentally pierce the jacket. It also protects the cable in case someone digs a hole where the cable is and accidentally punctures the jacket. Another reason for using a conduit is that if the cable fails it is much easier to attach a new cable to the old one and then pull a new cable into the conduit. Without the conduit you will have to re-dig a new trench and replace the cable, which will take a lot of time and money. Installing a conduit to house your Cat 6 cable in has very little cost, plus you already have to dig the hole anyways. So it is just the right way to install cable in the ground if possible.
Does a direct burial rated cable perform any less?
Not at all. The only difference is the construction of the jacket, and the addition of the water block tape technology. These things do not have any negative effects on the cables performance.
Does this cable have any special shielding?
It does not. It is a standard non-shielded outdoor Cat 6 rated cable. We do offer Shielded Direct Burial Rated Cat 6 Cable if you feel you need the extra protection against any surrounding equipment that could cause interference for your signals. This is very common is high density areas where numerous cables are installed. It is also very popular for installations where video is being transmitted over the Cat 6 cable.
Do I need any special connectors to terminate this outdoor cable?
You do not. It will support standard Cat 6 RJ45 connectors.
What is the difference between Water Block Tape and Gel filled?
Both the water block tape and gel filled construction will work equally good. It really comes down to personal preference. More professional installers seem to be moving to the water block tape construction because it is cleaner and easier to work with. Often the gel filled cables get real messy and hard to terminate because you need to work through too much of the gel filling. Plus the water block cables seem to be less expensive due to the cheaper cost of manufacturing. But either one will do the job!