6ESOSP - Cat6e Shielded Direct Burial Outdoor Cable, 1000ft Spool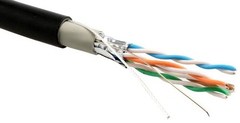 The 6ESOSP is a 1000ft spool of Cat6e direct burial rated shielded outdoor cable. It is designed for outdoor and underground network applications. This professional grade outdoor Cat6e shielded cable has all the characteristics of an advanced high speed UTP cable, while offering the ability to withstand any outdoor environmental conditions. This is the ideal cable for use in underground installations, and applications where the cable is exposed to the environment. This outdoor rated Cat6e shielded cable features a water-block tape internal construction that is the cleanest and most effective technology used to ensure moisture never enters the cable jacket and causes the cable to fail! Plus it offers an overall shielding that protects the network signals from any possible interference.
Install this Cat6e direct burial rated cable in conduit, on roof-tops, or bury it direct in the ground to get the assurance that your network will always perform! This outdoor cat 6e shielded cable also features a UV rated jacket to protect the cable from any possible sun damage!
Includes: (1) 1000ft Spool of 550MHz Cat6e Direct Burial Rated Outdoor Shielded Cable
Direct Burial Rated - Cat 6e Shielded Cable
ANSI/TIA/EIA-568 B.2-1 Category 6
Rated for commercial and residential network applications
ISO/IEC 11801-1995, EN 50173
Non Plenum – UL 1581, UL 1666, CM, CMR, IEC 332-1, CSA, ETL
Conductor: 23AWG Solid Bare Copper
Insulation: Polyethylene
Guaranteed 5dB better NEXT than TIA/EIA 568-A-5 Category 5e standards
Positive identification striping on 100% of conductor length
Easily identifiable conductor mates
ETL verified to TIA/EIA 568-A-5 and ISO/IEC 11801
Warranted with leading connectivity manufacturers
Part#: 6ESOSP
---
Related Products