18/2SHP - 18 Gauge 2 Conductor Stranded Shielded Plenum Cable, 1000ft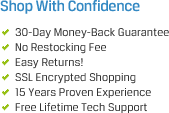 Related Categories
For project pricing and freight quotes on large wire & cable orders please call us now! 1-855-818-5556
This product may be available in one of our regional warehouses. Call us for best shipping option!
The 18/2SHP is an 18 gauge 2 conductor stranded shielded plenum multi-conductor cable designed for security and low power applications. This 18-2 shielded plenum cable features bare copper stranded conductors, white plenum rated (CMP) jacket, and an over-all foil shielding. Rip cord and drain wire included.
This 18-2 shielded plenum cable is certified for installations where cables are installed in open air plenum ceilings. The plenum rating (CMP) means that the jacket is made with a special compound that will stop dangerous toxins from entering the air circulation system in the case of a fire and the cable is burned. The plenum rated jacket will also cause the cable to burn slowly. It is important to always follow your local building codes when installing low voltage multi-conductor cables throughout the walls and ceilings of a home or business.
This 18-2 shielded plenum cable also features an over-all foil shielding that will ensure the signals that are carried over the cable are always protected from possible outside interference. The 18-2 shielded plenum cable is ideal for access control, remote control, signaling, security systems, communications, intercom/PA systems, sound/audio, and nurse call installations in newer high rise commercial buildings.
Includes: (1) 18-2 Stranded Shielded Plenum Multi-Conductor Cable, 1000ft
Jacket Color: White
Jacket Type: Plenum Rated (CMP)
Conductors: 18 Gauge, 2 Conductor, Stranded, with Rip Cord
Shielding: Over-All Foil
Includes Drain Wire
Color Coded Conductors: Red and Black
Bare copper conductors
Sunlight Resistant
Rated temperature: 60°C
Polypropylene or FR Polypropylene insulation
Cabled construction
300V operation
Package: 1000ft
Approvals: UL Type CMP/CL2R/FTR
Part#: SCP-18/2SHP