16/4-GY - 16 Gauge 4 Conductor Stranded Multi-Conductor Cable, 1000ft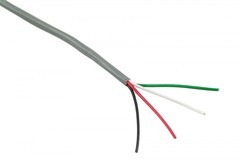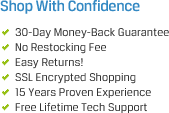 Related Categories
For project pricing and freight quotes on large wire & cable orders please call us now! 1-855-818-5556
This product may be available in one of our regional warehouses. Call us for best shipping option!
The 16/4-GY is a 16 gauge 4 conductor multi-conductor cable designed for security and low power applications. This 16-4 cable features bare copper stranded conductors, a gray PVC jacket, and a CMR rating. Solid bare copper strands are used to create the four color coded 16 gauge (AWG) conductors.
This 16-4 stranded cable is certified for in-wall use in both residential and commercial security and low power applications. It is a power limited circuit and communications cable commonly used in control, signaling, security, communications, intercom/PA, sound/audio, and nurse call installations.
Includes: (1) 16-4 Stranded Multi-Conductor Cable, 1000ft
Jacket Color: Gray
Jacket Type: PVC
Conductors: 16 Gauge, 4 Conductor, Stranded, with Rip Cord
Color Coded Conductors: Red, Black, Green, Yellow
Bare copper conductors
Sunlight Resistant
Rated temperature: 60°C
Polypropylene or FR Polypropylene insulation
Cabled construction
300V operation
Approvals: UL Type CMR/CL2R/FTR
Part#: SCP-16/4-GY