14/4-GY - 14 Gauge 4 Conductor Stranded Multi-Conductor Cable, 1000ft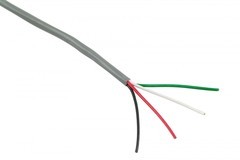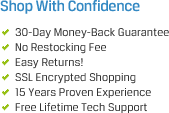 Related Categories
For project pricing and freight quotes on large wire & cable orders please call us now! 1-855-818-5556
This product may be available in one of our regional warehouses. Call us for best shipping option!
The 14/4-GY is a 14 gauge 4 conductor multi-conductor cable designed for security and low power applications. This 14-4 cable features bare copper stranded conductors, a gray PVC jacket, and a CMR rating. Solid bare copper strands are used to create the four color coded 14 gauge (AWG) conductors.
Using a 14 gauge cable is common in low voltage installations where longer than normal runs are present. To combat voltage drop or signal loss the best alternative is to increase the gauge of the wire.
This 14-4 stranded cable is certified for in-wall use in both residential and commercial security and low power applications. It is a power limited circuit and communications cable commonly used in control, signaling, security, communications, intercom/PA, sound/audio, and nurse call installations.
Includes: (1) 14-4 Stranded Multi-Conductor Cable, 1000ft
Jacket Color: Gray
Jacket Type: PVC
Conductors: 14 Gauge, 4 Conductor, Stranded, with Rip Cord
Color Coded Conductors: Red, Black, Green, Yellow
Bare copper conductors
Sunlight Resistant
Rated temperature: 60°C
Polypropylene or FR Polypropylene insulation
Cabled construction
300V operation
Approvals: UL Type CMR/CL2R/FTR
Part#: SCP-14/4-GY