DVR-LB3 - VMP Low Profile DVR Lock Box with Fan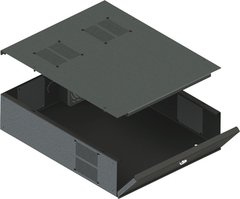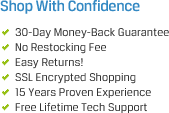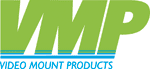 Related Categories
The DVR-LB3 is a low profile DVR lockbox design for 19" equipment racks. It is 2 post or 4 post mountable with adjusting rear flanges to accommodate a variety of rack depths. The DVR-LB3 is designed for both active and passive thermal management to accommodate whatever situation is necessary.
The VMP DVR-LB3 Low Profile DVR Lock Box consumes 3 rackmount spaces (3U), and features a key locked hinged door with an interlocking lift off lid. The DVR-LB3 includes a fan with multiple vents and removable vent blockers.
Protecting and securing your surveillance video recorder (CCTV DVR) is vital in any high security application. The DVR-LB3 ensures your security DVR is one 100% protected from the possibility of being stolen, damaged, or tampered with.
Includes: (1) DVR-LB3 Low Profile DVR Lock Box with Fan
Rack mountable on two or four posts with a three
RU overall height
Interlocking lift-off lid
Key-locked hinged front door
Black static resistant powder coat finish
Interior dimensions: 17.2in W x 21in D x 5in H
Part#: DVR-LB3