TNP850K1 - Platinum Tools Net Prowler Kit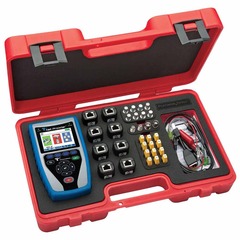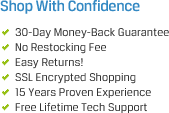 Related Categories
The Platinum Tools TNP850K1 Net Prowler Kit combines network testing (physical layer and link), cable verification & troubleshooting and PoE voltage testing in a handheld tester with a full-color display; all with the capability of saving and printing tests results from a personal computer.
TNP850K1 Cable Verification & Troubleshooting:
The Net Prowler™ provides full cable testing on any category network, coax, or telephone cable. It will display wire map, numbered ID remotes, and any faults, including shorts, opens, mis-wires, split pairs, and reverses, The full-featured Net Prowler™ measures cable length (using TDR technology) and generates tone levels for signal tracing and cable identification on all pairs, a selected pair, or a selected pin.
TNP850K1 PoE Voltage Testing:
The Net Prowler™ enables quick identification of a network drops link capability and current link status. Net Prowler; also tests the presence of PoE on the network drop and what class of PoE per IEEE 802.3 af/at with load test for voltage drop. These network tests can also be saved for record keeping and printing.
The Platinum Tools TNP850K1 Net Prowler Kit Includes:
Net Prowler main unit
Coax and Network Remote Set
#1-5, F-Connector Coupler in foam holder
Network/Tel Testing and ID Remote #1
No-Fault Cables - Qty 2
Micro USB Cable
Hanging Pouch
User Manual
Includes: (1) TNP850K1 Net Prowler Kit
Measurement Technology: Time Domain Reflectometry (TDR)
Cable Measurements: Cable Testing and ID: up to 1000 ft (305 m), Split Pair Detection: 3 ft (1 m) to 1,000 ft (305 m), Length Measurement: 0 to 1,500 ft (457 m), ± (5%+1 ft), Supports 8 continuity and ID number remotes (RJ45), Supports 20 RJ45 and 20 F connector ID only remotes
Power over Ethernet: Tests for IEEE 802.3af and IEEE 802.3at (PoE Plus) compliant PoE, Tests for classes and loads cable up to 25.5 watts, Identifies Mode A or B (pairs with PoE)
Active Ethernet: Indicates advertised speeds of 10/100/1000base-T half or full duplex. Can link to network at 10/100base-T
Maximum Voltage: RJ Jack: 66 VDC or 55 VAC, F Connector: 50 VDC or VAC
Save Test Results: Stores up to 250 cable or network tests with user defined names
Tone Generation Tone Frequencies: 730 Hz and 1440 Hz
Languages: English, French, Spanish
Battery Life: For 6 x AA, 9VDC, 2,200 mA-hr (typical) alkaline battery: Operating – 20 hours typically, Standby – 1.5 years typically (200uA max standby current) Batteries are included
Altitude: 10,000 ft (3048 m) operating
Temperature Operating: 32 to 122°F (0 to 50°C) Storage: -22 to +140°F (-30 to 60°C)
Humidity: 10 to 90% non-condensing
Enclosure: High-strength PC/ABS plastic with V0 rating with boot Withstands 4 foot drops onto concrete
Size: 1.85"H x 3.6"W x 6.8"L (4.7 x 9.15 x 17.3 cm)
Weight With batteries: 1 lb 2 oz (510 g)
Safety Compliances CE
Warranty: 1 Year
Part#: TNP850K1