TME17 - Tatung 17" LED Security Monitor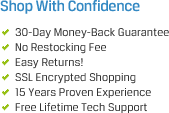 Related Categories
The Tatung TME17 17" LED Security Monitor is a feature rich video monitor designed for surveillance applications. A CCTV monitor is used to attach to your security DVR so you can best view the video your security cameras and DVR are capturing. Unlike a standard computer monitor, the TME17 is designed to work 24 hours a day all year long. A CCTV monitor is also vital because it will support the resolution of your cameras so you can always view the highest quality video. This video quality will come in handy when you are trying to playback video of an event.
The TME17 offers BNC, VGA, and HDMI inputs so you have complete flexibility in all your connections. It supports Megapixel Display Density, 1080p characteristics, and 3D Combo Filters to ensure high quality surveillance video viewing. The TME17 also features an on-screen display so you can manage and configure the monitor to best support your application.
The Tatung TME17 17" LED CCTV Monitor includes a 3 year warranty when purchased from an Authorized Distributor like Cabling Plus!
Includes: (1) TME17 17" CCTV Monitor
Screen Size: (Diagonal)17"
Pixel Resolution: 1280 x 1024
Backlight System: LED
Luminance, White: 250cd/m²
Viewing Angle: (CR>10)170/160
Contrast Ratio: (typical)1000:1
Response Time: 5 msec (G to G)
Power Consumption: 30 W
Power Input: 120-240VAC, 60/50Hz
Speaker Output: 3W + 3W
Input: VGA, DVI Via adapter through HDMI (not included), HDMI, BNC, Audio
Output: BNC Out x 1 (when monitor is on with input selection at BNC In)
VESA Mounting: 100mm x 100mm
Wall Mount Option: TWM-158 (Wall Mount)
Storage Temperature: -20C°~55°C
Operating Temperature: 5°C~40°C
Dimension: 15.55" x 2.76" x 15.36"
Gross Weight: 11.8 lbs
Part#: TME17
---
Related Products