SLR-835B-4 - Hochiki 4-Wire Photoelectric Smoke Detector with Trim Ring, Bone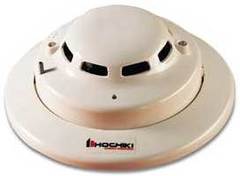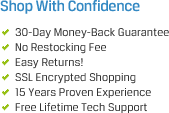 Related Categories
The Hochiki SLR-835B-4 Bone 4-Wire Photoelectric Smoke Detector with Trim Ring ensure quality, performance, and reliability. It is bone colored and features two bicolored LED's for indication of status, vandal proof housing, removable smoke labyrinth for cleaning, and an automatic sensitivity window verification function.
The SLR-835B-4 is dual voltage and supports a simple 4-wire installation. In the event of fire, smoke enters the detector and light is reflected from the smoke particles to the receiving element. The light received is converted to an electronic signal. Signals are processed in the comparator, and when two consecutive signals exceeding the basic level are received within a specific period of time, the time delay circuit triggers the SCR switch to activate the alarm signal.
The SLR-835B-4 includes the complete detector and trim ring.
Includes: (1) SLR-835B-4 4-Wire Photoelectric Smoke Detector with Trim Ring
Low Profile - Only 2.0" High
4 Wire Detector
Highly Stable Operation, RF/Transient Protection
Two built-in power/sensitivity supervision/alarm LED's
Non-Directional Smoke Chamber
Vandal Resistant Security Locking Feature
Removable smoke labyrinth for cleaning or replacement
Automatic Sensitivity window verification function meets outlined requirements in NFPA 72, Inspection, Testing and Maintenance
Light Source: GaAlAs Infrared LED
Operating Voltage Nominal: 12 VDC or 24 VDC
Working Voltage: 8.0 - 35.0 VDC (35.0 VDC Max)
Wave Form: Filtered DC 15% Ripple Max.
Alarm Current: 150mA Maximum
Surge Current: 200μA Maximum (2 wire)
Average Stand-By Current: 38μA AVG @12 VDC, 55μA AVG @24 VDC, 70μA AVG @35 VDC
Ambient Temperature: 32° F - 120° F (0° C - 49° C)
Sensitivity Test Feature: Automatic Sensitivity and Window Verification Test
Part#: SLR-835B-4