SD-997BQ - SECO-LARM Fail-Safe Electric Deadbolt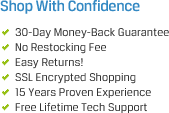 Related Categories
The SECO-LARM Enforcer SD-997BQ is a high security electric deadbolt designed for hollow metal doors in a home or business. It can be used with a tradition alarm system, intercom system, or access control system. The SD-997BQ has an open/close monitor that recognizes normally open (NO), closed (C), or normally closed (NC) status. An adjustable door lock delay timer will allow you to set the desired time in seconds before the door re-locks. The SD-997BQ also has a solenoid with automatically shut off if the door is not closed properly to prevent burning out. Fail-safe operation will unlock the door if power is lost.
The SD-997BQ features a shallow design for use with most metal door jambs. It is manufactured with stainless steel for strength and has a 1,000,000 operations operating lifetime. 
The SECO-LARM Enforcer SD-997BQ Fail-Safe Electric Deadbolt includes: Lock body, Faceplate, Strike plate, 2 large mounting tabs, 2 small mounting tabs, 6-pin connector, templates, mounting screws, and installation guide.
Includes: (1) SD-997BQ Electric Deadbolt 
Adds concealed deadbolt security to most wood or hollow metal doors, with the added convenience of electrical operation.
Fail-safe operation (unlocks if power is lost)
Door open/close monitor (NO/COM/NC)
Adjustable door lock delay timer (0, 2.5, 5, or 9 sec)
Control wire allows release without cutting unit's power
Magnetic switch determines door position for positive locking
Solenoid shuts off if door not closed properly to prevent burning out
Use with an optional digital keypad for high security without a key
Easily connects to SECO-LARM's SK-983A Electronic Keypad
Suitable for office-type applications
Shallow design for use with most metal door jambs
No limiting installation orientation
Powered by a solenoid
Stainless steel for strength and long life Operating lifetime: 1,000,000 operations
Plastic material Tefulon Polymonochlorotrifluoethylene
Power 12VDC, 880mA on activation, 330mA on standby
Over-current protection 1.5A
With control wire which allows for releasing without cutting unit's power
Stainless steel bolt, 5/8" diameter, 5/8" throw
Lock body (faceplate) dimensions - 7-7/8"x1-5/16" (200x32 mm)
Lock body (cavity) dimensions - 5-3/4"x1-1/8"x1-1/2" (145x28x38 mm)
Strike plate dimensions - 3-9/16"x1"x1-1/8" (90x25x3 mm)
Plug Special conic cavity stainless steel (thickness 1.5mm~1.8mm)
Part#: SD-997BQ