SD-961A-36 - SECO-LARM Push-To-Exit-Bar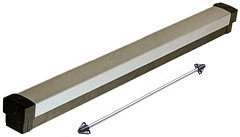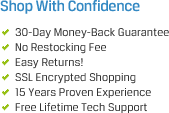 Related Categories
The SECO-LARM SD-961A-36 is a Push-To-Exit-Bar designed to allow egress from inside an area normally locked by an electric lock or electromagnetic lock, and/or to disarm (shunt) or trigger an alarm when the door is opened. By pushing the bar at any point it sends a signal to release the lock and/or sound an alarm. The SD-961A-36 offers and attractive brushed-aluminum bar with black base and trim, and includes 2 built-in non-latching (momentary), dual-contact switches (NO/COM/NC), rated 5A@125VAC. 
The SD-961A-36 is simple to install and includes everything you need for a fast installation. It also includes the SECO-LARM SD-969-A18 Armored Door Cord, and mounting hardware (for mounting in wood or metal doors).
Included with the SECO-LARM SD-961A-36 Push-To-Exit-Bar is a miniature key with a square hole. To lock the push bar closed (to allow two-way, uncontrolled access to the protected area), remove the square-head bolt's round cover, push the bar in all the way, and turn the square-head bolt with the key. To release the bar, turn the square-head bolt again.
Includes: (1) SD-961A-36 Push-To-Exit-Bar
New end caps come off and go on in seconds
Designed to allow egress from inside an area normally locked by an electric lock or electromagnetic lock, and/or to disarm (shunt) or trigger an alarm when the door is opened.
Rugged, heavy-duty construction
Pushing the bar at any point sends a signal to release the lock and/or sound an alarm
For 36 inch doors (actual length is 34.5 inches)
Includes 2 built-in non-latching (momentary), dual-contact switches (NO/COM/NC), rated 5A@125VAC
Attractive brushed-aluminum bar with black base and trim
Includes SECO-LARM SD-969-A18 Armored Door Cord, and mounting hardware (for mounting in wood or metal doors)
Designed for easy cutting in field to match width of non-standard-sized doors
Part#: SD-961A-36