SD-7201GC-PEQ – SECO-LARM "Push to Exit" Request-To-Exit Plate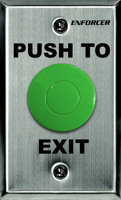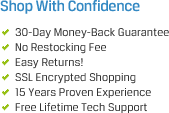 Related Categories
The SECO-LARM SD-7201GC-PEQ is a stainless steel Request-To-Exit plate used for access control and security applications. It gives you the ability to quickly exit an electronic door that is usually attached to an access control system. The SD-7201GC-PEQ fits in a single gang low voltage mounting box and has "Push to Exit" silk-screened directly on the plate. It also features a green mushroom cap push button that is easy to see and simple to push for triggering the opening of a door.
The SD-7201GC-PEQ is designed with a 5A@125VAC rated NO/NC contact. To wire this Request-To-Exit plate it needs to be wired back to the main access control panel. Once the button is pushed it will cause the electronic lock on the door to be de-energized. Once the lock is de-energized the door will freely open.
Using a Request-To-Exit or Push-To-Exit plate like the SD-7201GC-PEQ is very popular in commercial access control environments. It gives you total control for easily exiting a door.
Cabling Plus is an Authorized Distributor for the entire line of SECO-LARM professional grade security products!
Includes: (1) SD-7201GC-PEQ "Push to Exit" Request-To-Exit Plate
Stainless-steel face-plate
"Push to Exit" silk-screened on plate
Fits into standard single-gang box
Green mushroom cap push button
NO/NC contact rated 5A@125VAC
Part#: SD-7201GC-PEQ