E-964-Q495Q - SECO-LARM Quad Photobeam Detectors, 495ft Range Outdoors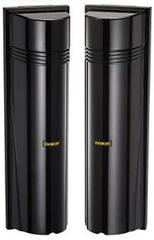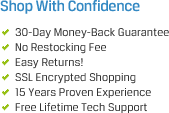 Related Categories
The SECO-LARM E-964-Q495Q Quad Photobeam Detectors are the designed to support long range perimeter security applications. They offer quad infrared beams that provide the highest reliability while minimizing false alarms. The E-964-Q495Q beam detectors support a 495ft range in an outdoor installation.
Each E-964-Q495Q detector is weatherproof, and offers a sunlight-filtering case to ensure performance in all weather conditions. They also have a anti-front system with a built-in heater so that the beams support your 24/7 security needs in any harsh weather environments. The E-964-Q495Q includes polarized inputs, NO/NC alarm output, and a 4 channel selectable frequency feature.
Most often the E-964-Q495Q beam detectors are added to an alarm system to increase security measures at a home or business. As a common alarm add-on beam detectors are simple to install and are completely managed from the alarm keypad. If you are concerned about perimeter security at your home or business, then installing beam detectors may be the perfect solution for you.
Includes: (1) E-964-Q495Q Quad Photobeam Detectors
495ft Range Outdoors, 990ft Indoors
Built-in laser beam alignment system speeds accurate, reliable positioning
Multi-frequency (4 channels selectable)
Quad infrared beams provide reliable perimeter security, minimizing false alarms from falling leaves, birds, etc.
Lens optics reinforces beam strength & provides excellent immunity to false alarms due to rain, snow, mist, etc.
Weatherproof, sunlight-filtering case for indoor & outdoor use
Anti-frost system with built-in heater so that beam functions even in extreme conditions
Automatic input power filtering with special noise rejection circuitry
NO/NC alarm output
N.C. tamper circuit included
Non-polarized power inputs
Quick, easy installation with built-in laser beam and audible alignment system
Built-in alignment strength indicator
Interruption time adjustable for nearly all situations
Power: 11~24VAC/VDC (Non-polarity)
Part#: E-964-Q495Q