E-960-D90Q - SECO-LARM Twin Photobeam Detectors, 90ft Outdoors, 190ft Indoors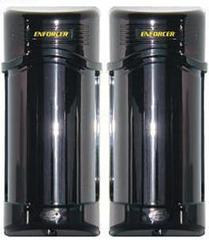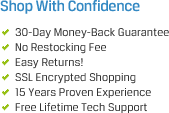 Related Categories
The SECO-LARM E-960-D90Q Twin Photobeam Detectors are the perfect solution for adding perimeter security to a home or business. The E-960-D90Q is designed for both indoor and outdoor security use, featuring an outdoor range of 90ft and an indoor range of 190ft. The twin infrared beams on the E-960-D90Q provide the most reliable perimeter security while minimizing false alarms from the wind, falling leaves, birds, or other small animals.
The E-960-D90Q features a weatherproof, sunlight filtering case, and an anti-frost system to ensure the beams are always functioning in even the toughest environmental conditions. They also include a built-in laser beam alignment system and support beam accuracy and reliable positioning.
If you are trying to increase security measures at your home or business the SECO-LARM E-960-D90Q Twin Photobeam Detectors may be the best solution for you. They are the perfect add-on to any current alarm system to protect a large indoor or outdoor area.
Includes: (1) E-960-D90Q Twin Photobeam Detectors
Range 90ft Outdoors, 190ft Indoors
Built-in laser beam alignment system speeds accurate, reliable positioning.
Twin infrared beams provide reliable perimeter security, minimizing false alarms from falling leaves, birds, etc.
Lens optics reinforced beam strength & provides excellent immunity to false alarms due to rain, snow, mist, etc.
Weatherproof, sunlight-filtering case for indoor & outdoor use
Anti-frost system so that beam functions even in extreme conditions
Automatic input power filtering with special noise rejection circuitry
NC/NO alarm output
N.C. tamper circuit included
Non-polarized power inputs
Quick, easy installation with built-in laser beam alignment system
Interruption time adjustable for nearly all situations
Power: 11~24VAC/VDC (Non-polarity)
Part#: E-960-D90Q