E-960-D290Q - SECO-LARM Twin Photobeam Detectors, 290ft Outdoors, 590ft Indoors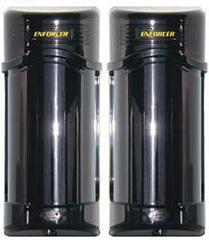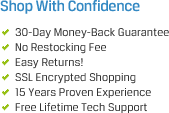 Related Categories
The SECO-LARM E-960-D290Q Twin Photobeam Detectors are the perfect solution for adding perimeter security to a home or business. The E-960-D290Q is designed for both indoor and outdoor security use, featuring an outdoor range of 290ft and an indoor range of 590ft. The twin infrared beams on the E-960-D290Q provide the most reliable perimeter security while minimizing false alarms from the wind, falling leaves, birds, or other small animals.
The E-960-D290Q features a weatherproof, sunlight filtering case, and an anti-frost system to ensure the beams are always functioning in even the toughest environmental conditions. They also include a built-in laser beam alignment system and support beam accuracy and reliable positioning.
The E-960-D290Q is the longest range beam detector available designed to secure the largest perimeter areas. These are ideal for adding perimeter security large properties, construction yards, storage areas, shipping receiving areas, or car dealerships. The E-960-D290Q Twin Photobeam Detectors easily attach to your current alarm panel so you can manage and control them with your keypad.
Includes: (1) E-960-D290Q Twin Photobeam Detectors
Range 290ft Outdoors, 590ft Indoors
Built-in laser beam alignment system speeds accurate, reliable positioning.
Twin infrared beams provide reliable perimeter security, minimizing false alarms from falling leaves, birds, etc.
Lens optics reinforced beam strength & provides excellent immunity to false alarms due to rain, snow, mist, etc.
Weatherproof, sunlight-filtering case for indoor & outdoor use
Anti-frost system so that beam functions even in extreme conditions
Automatic input power filtering with special noise rejection circuitry
NC/NO alarm output
N.C. tamper circuit included
Non-polarized power inputs
Quick, easy installation with built-in laser beam alignment system
Interruption time adjustable for nearly all situations
Power: 11~24VAC/VDC (Non-polarity)
Part#: E-960-D290Q