E-942FC-600 - SECO-LARM 600 lb. Weatherproof Electromagnetic Gate Lock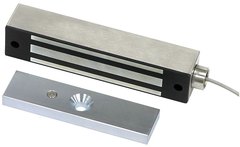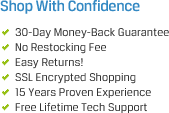 Related Categories
The SECO-LARM E-942FC-600 is a 600 pound weatherproof electromagnetic lock designed for securing sliding and swinging electric doors. This electromagnetic lock is waterproof and vandal resistant, so you can rest assure your lock is 100% protected from the elements. The E-942FC-600 is 12 or 24 VDC selectable and provides 600 pounds of holding force. When power is applied to the magnetic lock it turns on the unit's powerful built-in electromagnet. The lock can be triggered by your security system, access system, relay switch, or even with a standalone RF transmitter and receiver system (each sold separately).
The E-942FC-600 electromagnetic lock has an attractive stainless-steal finish and includes MOV surge protection, with a maintenance-free, factory sealed design.
Parts included with the SECO-LARM E-942FC-600 600 lb. Weatherproof Electromagnetic Gate Lock: 1 x Electromagnet, 1 x Armature plate, 1 x Armature screw, 3 x Large steel washers, 2 x Rubber washers, 1 x Sexnut bolt, 4 x Mounting screws, 4 x Small washers, 4 x Tamper caps, 2 x Guide pins, 1 x Hex key (Allen wrench), 4 x Blind nuts, 1 x Blind nut assembly set, and 1 x Door spacer (tube).
Includes: (1) E-942FC-600 600 lb. Weatherproof Electromagnetic Gate Lock
For outdoor sliding and swinging electric gates
Lock is water and vandal resistant
Lock has attractive stainless-steel finish.
Maintenance-free, factory-sealed design
Holding force: 600 lbs.
No residual magnetism.
MOV surge protection
"L" bracket and "Z" brackets available for easy mounting
Operating voltage: 12 or 24 VDC ±10%
Current draw: 500mA@12VDC, 250mA@24VDC
Temperature: 14°~131° F (-10°~55° C)
Magnet size: 8"x2-11/16"x1-9/16" (203x42x39 mm)
Armature size: 6-1/4"x1-3/8"x5/8" (159x41x16 mm)
Unit weight (approx.): 4-lb 6-oz (2kg)
Cable length (approx.): 6.5"
UL and ULC listed
CE listed.
RoHS compliant
Part#: E-942FC-600