E-941SA-1200 - SECO-LARM 1,200 lb. Holding Force Electronic Maglock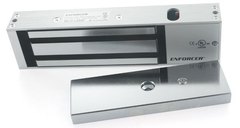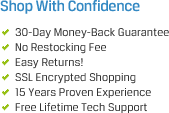 Related Categories
The SECO-LARM E-941SA-1200 is a high security electromagnetic lock that provides 1200 pounds of holding force. It is perfect for securing mission critical doors in a home or business. The E-941SA-1200 uses a magnetic lock feature that attracts the lock to the armature plate. As long as the lock is powered it will ensure the lock is closed which keeps the door secured. For this purpose it is important to use a separate power supply with back-up battery when using electromagnetic locks. To release the lock when it is powered you can use a standard Request-To-Exit plate, access control keypad, access control reader, or any other entryway peripheral that is part of your access control system. 
The E-941SA-1200 electromagnetic lock is made of anodized aluminum, has MOV surge protection, and is 12 or 24VDC selectable. It has a detachable faceplate and an adjustable mounting bracket that aids in a fast and easy installation.
The E-941SA-1200 includes all the mounting hardware needed for most installations. For special mounting needs use the E-941S-1K2/ZQ "L" bracket and "Z" bracket kit.
The SECO-LARM E-941SA-1200 1,200 lb. Holding Force Electronic Maglock includes: 1 x Mounting plate, 1 x Electromagnet, 1 x Armature plate, 1 x Armature screw, 2 x Steel washers, 1 x Rubber washer, 1 x Door spacer, 1 x Sexnut bolt, 2 x Guide pins, 4 x Long self-tapping screws, 2 x Short self-tapping screws, 2 x Hex-head mounting screws, 2 x Tamper caps, and 2 x Allen wrenches
Includes: (1) E-941SA-1200 1,200 lb. Holding Force Electronic Maglock
Anodized aluminum housing (US 28)
12 or 24 VDC (selectable)
No residual magnetism
Adjustable mounting bracket
MOV surge protection
Complete mounting hardware for typical installations
"L", "Z" & "U" brackets available for easy mounting
Detachable face plate
UL and ULC listed 
CE listed.
RoHS compliant
Part#: E-941SA-1200