SC2204RWH - Solid 22/4 Alarm Wire, 1000ft Box, White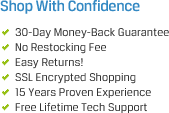 Related Categories
For project pricing and freight quotes on large wire & cable orders please call us now! 1-855-818-5556
The 22/4 solid alarm wire is the most commonly used wire for attaching powered components to a burglar alarm system. A solid 22/4 alarm wire gives you the four conductors needed to wire alarm peripherals such as PIR's, keypads, and glass break detectors.
This 1000ft box of 22/4 alarm wire features 22 gauge solid bare copper conductors, color coded (Green/Red/Black/Yellow) conductors, and a CMR rated PVC jacket. The CMR rating on the 22/4 alarm wire ensures it is rated for both residential and commercial alarm wiring applications.
Are you trying to figure out if you want to use solid or stranded 22/4 alarm wire for your alarm system installation? The truth is both the solid and stranded alarm wire will do the job just fine. The 22/4 solid alarm wire is much less expensive then the stranded type but it is less flexible because it is made with a single solid copper wire. The stranded cable is more flexible and easier to work with because it is made with numerous thin copper strands that make up the 22 gauge conductors. Although both are just as effective it all comes down to personal choice!
Includes: (1) 1000ft box of 22/4 Solid Alarm Wire
Conductor: 22 AWG Bare Copper – Solid
4 Conductors
Insulation: PVC - Green/Red/Black/Yellow
Jacket: PVC with Rip Cord
Electrical Properties: 300 V Max
Class 2 Power Limited Circuit Cable and Communications
Cable for General Purpose Applications
UL Listed
CMR-CL2R Rated
Part#: SC2204RWH