RGB5/Plenum - Plenum 5 Conductor RGB Mini RG59 Coaxial Cable, 25 Gauge, 500ft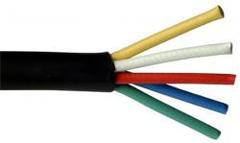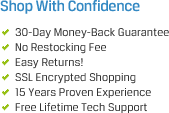 Related Categories
The RGB5/Plenum is a plenum rated 5 conductor Mini RGB cable designed to provide superior digital, high-definition performance for your Plasma, Projector, TV, and audio installations. All 5 conductors are made with high performance mini RG59 cable, which is constructed for performance, signal distance, and lower attenuation. The 5 conductor RGB cables are designed to deliver 1080p high definition signals in environments where HDMI is not an option.
The RGB5/Plenum is 500ft spool of bulk 5 conductor mini RGB cable. Each conductor is made of a 25 gauge center conductor mini RG59 coaxial cable. The conductors are all color coded, shielded, and enclosed in an overall plenum rated jacket. Once the RGB cable is installed in place you can then terminate the ends with your own RG59 connector types.
The Plenum (CMP) rated jacket on this cable allows it to be installed in commercial plenum air flow spaces. The jacket is specially treated to support slow burn, while ensuring it does not release harmful toxins into the air flow system if caught on fire.
Includes: (1) Plenum 5 Conductor RGB Mini RG59 Coaxial Cable, 25 Gauge, 500ft 
CMP Plenum Rated Jacket
Broadcast grade video cable
Miniature coaxial cable
5 conductors - RG59/U Mini
Each conductor is made with a 25 gauge solid bare copper center conductor
90% tinned copper braid
Heat shield aluminum braid
Cotton Filler
PVC Jacket
Gas injected foam
75 Ohm
Tested to 3.0 GHz
UL and CMP rating
500ft Spool
Part#: RGB5/Plenum