R915 - Paradox Indoor/Outdoor Proximity Reader and Keypad, White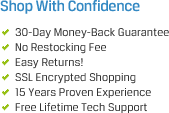 Related Categories
The Paradox R915 is a White weatherproof 4-wire proximity card reader with a built-in backlit 12-button keypad for PIN entry. The R915 is compatible with any Digiplex or EVO control panel and is connected to an ACM12 using only 4 wires to facilitate installation. The R915 is the perfect cost affective access control solution for the home or small business!
The Paradox R915 features an extreme weather resistant design. It includes an injected rubber gasket and PCB cover. The R915 is durable, compact, and sleek enough to be mounted on any flat surface. Its slim design allows it to mount in areas where space is limited.
The Paradox R915 White Indoor Outdoor Proximity Reader and Keypad can use both the Card and PIN functions. However, the PIN must be entered after the card is scanned if Card and PIN is enabled. You can also use the Card Only, PIN Only or Card or PIN settings, which are set in the ACM12. PIN settings are only available with ACM12 V4.0 or higher. The key is used to cancel a PIN entry, the key is used when using Flexible Code Length and entering a code shorter than 6 digits.
Includes: (1) R915 White Indoor/Outdoor Proximity Reader and Keypad
Only 4 wires instead of 7 to connect with 4-wire access control modules
In-field firmware upgradeable via CONV4USB and WinLoad
Adjustable red/green LED intensity and buzzer frequency
Extreme weather-resistant design (injected rubber gasket and PCB cover)
Tricolor LED display
Card only: DGP-ACM11 version 3.0 or higher
Card/PIN: ACM12 version 4.0 or higher
Power Input: 11Vdc to 14.5Vdc
Current Consumption: 60mA
Frequency: Exciter field 125 KHz Pulse Modulated
Operating Temperature: -35°C (-31°F) to +65°C (149°F)
Output Formats: 4-wire (RS-485)
Cable Distance: 300m (1000 ft.)
Cables: 4-wire Cables (Twisted Pair recommended)
Color: White
Part# R915-G4K