POE-32001T - UNICOM PoE Injector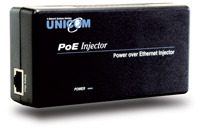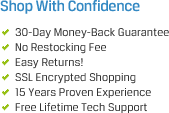 Related Categories
The UNICOM POE-32001T PoE Injector provides data and AC power through an Ethernet cable to a PoE-equipped device, such as an Access Point, PoE Splitter, or other equipment that supports the IEEE 802.3af standard. This PoE injector is typically installed near an Ethernet hub.
Power-over-Ethernet (PoE) eliminates the need to run separate 110/220 VAC power to other devices on a wired LAN. Using the POE-32001T, installers need to run only a single Cat5e cable to carry both power and data to each device. This allows great flexibility in the locating of network devices and significantly decreases installation time and costs.
The POE-32001T is light weight and compact, and delivers power up to 100 meters. It supports a plug and play installation! The POE-32001T features LED indicator lights, remote power feeding, and short circuit protection.
Includes: (1) POE-32001T PoE Injector
Mix Ethernet and power into one RJ-45 port
Delivers power up to 100 meters
Short circuit protection
Remote power feeding
Lightweight and compact
Plug-and-Play
Standard: IEEE802.3 10Base-T, IEEE802.3u 100Base-TX, IEEE802.3af Power over Ethernet, Connector DC Out: Power pin: 4,5(V+), 7,8(V-)
Network Cable: 10Base-T: 4-pair UTP/STP Category 3/5e/6 cable, EIA/TIA-568 100-ohm (up to 100m), 100Base-TX: 4-pair UTP/STP Category 5e/6 cable, EIA/TIA-568 100-ohm (up to 100m)
LED System: power (green)
Power Input: 100~240V, 50~60Hz, 0.25A
Output Power: 48VDC, 0.3A
Operating
Environment: 0? ~ 40? C (32? ~ 104?F)
Dimensions: 117mm x 60mm x 35mm (L x W x H)
EMI & Safety FCC Class B, CE, UL, cUL, CE/EN60950
Part#: POE-32001T