10500 - Platinum Tools Coax and Round Cable Cutter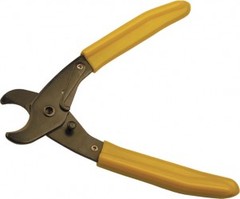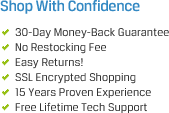 Related Categories
The Platinum Tools 10500 is a round cable cutter designed to cut solid and stranded wire to 8 AWG, multi-conductor and coaxial cable to 1/2" diameter. This round cable cutter from Platinum Tools features a curved, precision ground cutting blade that will not deform the conductors or dielectric you are cutting. The 10500 is stamped from high carbon tool steel and heat treated for long life.
At Cabling Plus we offer all the cable cutters and wire strippers you need to make your installation complete!
Includes: (1) 10500 Coax and Round Cable Cutter
Cuts solid and stranded wire to 8 AWG
Cuts multi-conductor cable to 1/2" diameter
Cuts coaxial cables without deforming the dielectric
Part#: 10500
Platinum Tools 10500 Coax Cable Cutter - FAQs
What is the purpose of using a round cable cutter?
A round cable cutter is important because it cleanly cuts a round cable while maintain the cables shape. When cutting coaxial cable the 10500 will also cut the entire coax without deforming the center dialectic. Having a nice round end that is clean cut is important to the quality of a termination on coaxial cables. Most professional installers will use a round cable cutter to make a clean initial cut on a coaxial cable prior to terminating. This makes stripping the cable easier, and ensures there is quality space for the connectors to clamp or crimp to.
Will the Platinum Tools 10500 Coax Cable Cutter cut larger cables?
It can cut cables up to a ½" diameter. It is also made from high carbon steel to ensure it is durable and long lasting.
Besides coaxial cables what are other cables can I cut with the 10500?
The Platinum Tools 10500 Coax Cable Cutter is sharp and durable enough to cut any low voltage cable. It you are a professional installer in the areas of networking, cabling, access control, security, surveillance, automation, sound, and controls the 10500 is a tool you will want to have in your tool bag.