PDS-LCB - VMP Large Flat Panel TV Ceiling Mount, 37" to 70" Displays, Black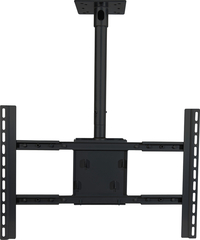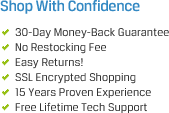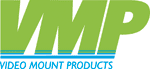 Related Categories
The VMP PDS-LCB is a large black flat panel ceiling mount that can accommodate most 37" to 70" flat panels. This versatile mount can handle a wide range of ceiling applications with its adjustable tilt, extension, rotation and rails to ensure perfect flat panel placement. The PDS-LCB will support a load capacity of 180 pounds while providing cable management through the mast.
The VMP PDS-LCB allows you to adjust the mast telescope 23" to 35" and offers an adjustable tilt of -5 to +20 degrees. It also allows you to have a full 160 degree rotation with your display. The PDS-LCB provides a maximum flat panel hole pattern of 860mm x 500mm, and it features a black powder coated finish to ensure a long lasting durable installation.
All required mounting hardware is included for a successful installation.
Lifetime Warranty
Includes: (1) PDS-LCB Large Flat Panel TV Ceiling Mount Black
Holds most 37" - 70" flat panels
Maximum flat panel hole pattern - 860mm x 500mm
Mast telescopes 23" – 35"
Rotates 360º
Adjustable 0º – 15º tilt
Cable management through the center of the mast
Load capacity - 180 lbs.
Black powder coat finish
Part#: PDS-LCB