TM50 - Paradox Touch Intuitive Touchscreen, Piano Black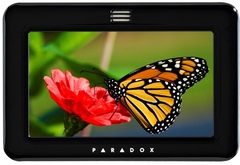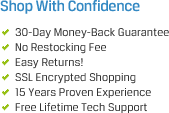 Related Categories
The Paradox Piano Black TM50 Touch Intuitive Touchscreen integrates security and home control capabilities to help you manage and control the complexities of modern living – all from a 5" touch screen. One touch gives you a whole range of features and information on your entire security system; from which alarm was triggered in which room, to the real-time status of every area and zone in your installation, to any possible activity in your system. A touch of a fingertip also allows you to control your exterior lights, garage door, appliances, and more.
Finally, security meets control with TM50 Touch. Homeowners can experience peace of mind knowing that their families and homes are safe. Business owners can feel confident that with TM50 Touch's ability to integrate diverse systems; it takes just one central control unit to deliver both security and property control benefits.
With the Paradox TM50 Touch, the systems you use to protect your property are integrated into your environment to enhance your life. The TM50 Touch's many helpful lifestyle features –including slideshows, an alarm clock, indoor/outdoor temperature display, access monitoring and home control integration – are bundled into a sleek design featuring a 5.0 inch (12.7 cm) color display that complements any decor, whether residential or Commercial.
Includes: (1) Piano Black TM50 Touch Intuitive Touchscreen
Thin, sleek design
Piano Black
5.0 in. / 12.7 cm vivid color display (480 x 272 pixels)
Intuitive, icon-based menus - no manual needed
Control up to 8 PGM outputs
In-field firmware upgradable via micro SD card
Powerful advanced processor
1 zone/temperature input to connect a detection device or a TEMP07 (External Temperature Sensor)
Customized translation via web application
Surface-mount installation only; dimensions 14.4 x 9.6 x 1.4 cm (5.7 x 3.8 x 0.6 in.)
Compatible with EVO (V2.16 or higher), MG5000/MG5050, SP5500/SP6000/SP7000 (version 4.72 or higher), and SP4000/SP65 (version 4.90 or higher)
User-Friendly
Featuring intuitive menus and icons, ultra-fast response time when scrolling through pages, and clear and precise menu-driven prompts; the TM50 makes the user experience easier and friendlier than ever
Spot On Alarm Locator
This optional feature allows the user to upload up to 32 floor plans to the TM50, providing a graphic verification of zone locations customizable with illustrations or photographs.
One Screen Monitoring
This optional feature displays the arming status of all partitions and zones. Also, with Solo Test mode, you can easily test all system zones right from the TM50's screen.
External SD Media Card Slot
Used to upload photos for use with the slide show function and easily upgrade firmware.
Customizable Labels
Allows the user to customize and edit zones, areas, users, and PGM labels.
Part# TM50-UC6