NVX80 - Paradox Indoor/Outdoor Detector with Anti-Mask & SeeTrue™ Technology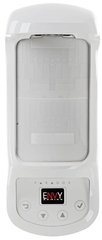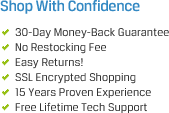 Related Categories
The NVX80 is a powerful indoor / outdoor detector that is highly sensitive, accurate and maintains reliability, even in extreme environments. The NVX80 is the only detector in the industry offering eight detection channels - 4x forward looking PIR channels (2x quad interlock geometry sensors), 2x microwave channels and 2x standalone creep detector (1quad sensor with interlock geometry).
Unprecedented detection accuracy
NVX80 combines unique Paradox technologies to provide superior detection with minimum false alarms.
SeeTrueTM Technology (Patent Pending)
Identifies camouflaged movements used to breach common PIR and dual tech detectors
Sensitivity is enhanced while maintaining reliability (even in high temperature environments) - no compromise on false alarm immunity
Active IR (Patent Pending) & MW (Patented) Anti-Mask Detection
The NVX80 recognizes:
objects placed in close proximity (within 11.8in. / 30cm)
objects placed directly on the lens (clear lacquer, clear adhesive tape, aluminum foil etc.)
degradation of the lens by dirt or dust
movement within close range of the unit (0.5m - 2m / 1.6ft - 6.5ft) – range is customizable
Dedicated Creep Detector
Integrated Creep Detection unit with dedicated sensor and circuitry provides:
highly sensitive and reliable protection of a large creep area (0.1m-3m/0.3-9.8ft.)
enables independent customization of creep sensitivity to secure the area directly below the detector
Pet ImmunityTM(Patented Paradox Technology)
Integrated Creep Detection unit with dedicated sensor and circuitry provides:
uses size discrimination to filter out objects under 80cm (32in.) high, preventing pets weighing up to 20kg (44lbs.) from triggering the detector and creating a false alarm
Configuration made easy
Quick installation
Full color OLED menu display and 4-button interface – intuitive guide to program, customize settings and test the unit.
Dedicated diagnostics for PIR, MW, anti-mask and SeeTrueTM enable simple, accurate, one time installation. No jumpers, trimmers or complex wiring needed
NVX80 features:
A large detection pattern (15m x 15m / 50ft x 50ft)
Certification: EN 50131 Grade 3 Class IV
Available in bracket configuration and wall mount
All-weather cover included