NV5-W3C - Paradox High-Performance Infrared Motion Detector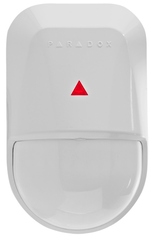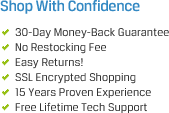 Related Categories
The Paradox NV5 is the next generation of the ENVY Digital Detection series. It has evolved from its predecessor NV500 - new firmware and improved hardware enables faster and more reliable detection, false alarm immunity and more, packaged in the sleek design you are familiar with.
The NV5 is the replacement for the older 476 and 476PET Motion Detectors
*The NV5 is Easy to install and easy to use*
The average time to install: 5 - 10 minutes
No PC board removal necessary, easy PC board installation, clip in/out (when desired)
Optional wall/ceiling mount bracket
Panel compatibility: EVO, Spectra, Magellan, 3rd party
*The NV5 is faster & more reliable*
Catch performance
Even detection, no dead zones within the protected range
Response to movements - slow and fast
False alarm immunity Paradox technology, Auto Pulse Signal Processing (APSP) and Dual/ Single Edge Processing enables flexibility in setting detection response time compared to false alarm immunity
Digital temperature compensation – same catch capability at specified operating temperatures
RF immunity
*The NV5 has customizable sensitivity levels*
5 levels of sensitivity – choose level according to the needs of the protected area
Pet resistant
Adjustable creep zone – mirror add-on provides enhanced creep zone sensitivity and is recommended for best product performance
*The NV5 features the new Paradox hybrid cylindrical-spherical lens*
Paradox's Hybrid Cylindrical-Spherical takes the NV5 detection capabilities to a higher level than that of other detectors in this category.
The Hybrid lens (3rd generation 3D LoDiff® Fresnel segments) offers the best detection possible for passive infrared energy reception for: Far beams – cylindrical, and Medium/close beams/creep zone - spherical
This lens design allows for: Ultimate perpendicular beam collection
Optically and digitally equalized beam pattern - all beams optimized for generating equal signal level at any distance or angle
Pet resistance beam pattern
Superior and uniform energy collection translates in a better image quality of the target which provides unmatched detection accuracy and stability.